A Second Opportunity to Acquire Frank Cho's Challenge Coin
"Oh, the she-devil!"
– The Adventure of the Illustrious Client (ILLU)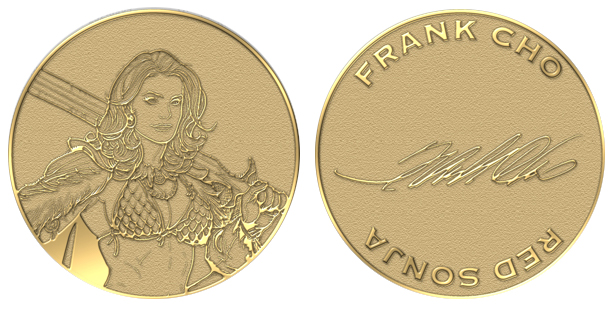 Just a few weeks ago, we posted about the Kickstarter campaign that artist, and BSI member, Frank Cho launched earlier this year that included a challenge coin. We were late to that news when we posted and the campaign had already ended.
There is good news! Dynamite Entertainment has recently launched a IndieGoGo fundraising campaign that offers the same opportunities as the earlier Kickstarter campaign to acquire the same items. Once again, this campaign was funded in under three hours after opening, but is keeping the campaign open until the end of this month.
The campaign can be found HERE and the challenge coin can be acquirred as a $20 add-on.
Once again, we would have expected to learn about this news from the 74th Garrideb, Mike McSwiggin (aka Frank's best friend), but no! Our thanks to the 87th Garrideb, Ray Riethmeier, for alerting us!