HolmeWork Assignment: Jeremy Brett on Fantasy £10 Bank of Sherlock Holmes Banknote
"… before I take ten pounds from you."
– The Adventure of the Six Napoleons (SIXN)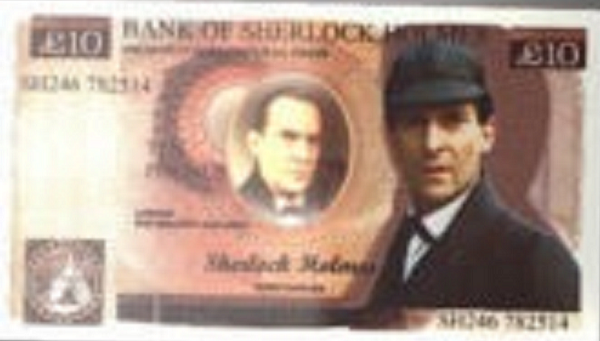 For this HolmeWork assignment, we have a very blurry photograph of a fantasy £10 Bank of Sherlock Holmes note that features Jeremy Brett as Sherlock Holmes. Notice that we only have a picture of the front of the note here and no picture of the back of the note.
You now know as much as your Editor and this is why it is a HolmeWork assignment.
Anyone ever seen this before, or own one?
Is there any information anybody can share?
I'm curious if this was manufactured while Brett was starring as Holmes on the Granada series, or of a more recent vintage.
Looking forward to seeing some suggestions from you!