Fantasy £100 Bank of Baker Street Notes Feature BBC Sherlock Cast
" … for the sake of a few hundred pounds. "
 – The Red-Headed League (REDH)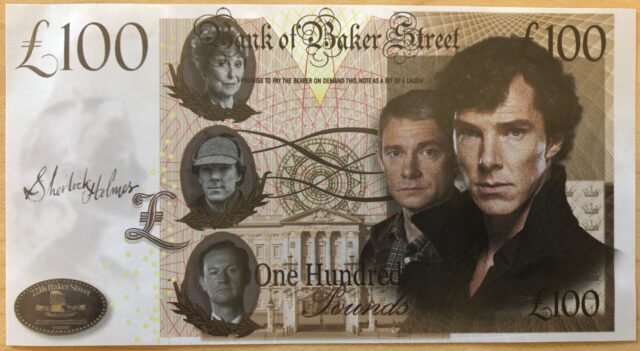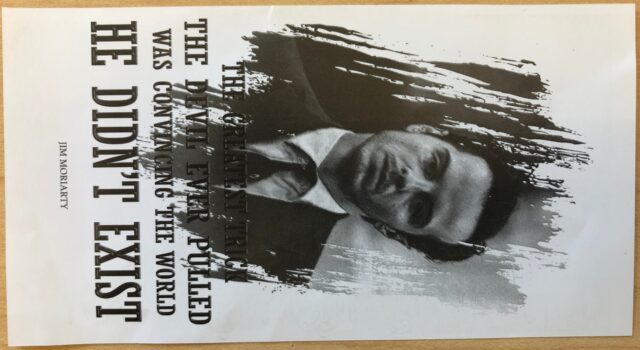 We have another fantasy bank note, this a £100 note from the fictional Bank of Baker Street. The front of this 76 millimeters by 140 millimeters note features larger portraits of John Watson and Sherlock Holmes on the right, while smaller portraits of Mrs. Hudson, Sherlock and Mycroft Holmes appear vertically on the left side. Jim Moriarty is featured on the back of the note, with a quote from the 1995 movie, The Usual Suspects.
Since we became aware of this note, we have found social media reports of these being found in novelty and tourist shops in the UK and on the European continent. Its plastic packaging is pre-punched, making it ideal to hang many samples for sale from a hook on a display board of novelty items. It appears that these sold in the range of £1.50 to £3 and were first mentioned in tweets from last June.
We do not know who produced these items. The Sherlock Holmes oval design, in the lower left corner of the front of this note, has been used on some items sold by the Sherloc Holmes Museum  on Baker Street. Since their online gift shop has been down for 6 years now, we can't check out that approach.
It is a very attractive design and does appear with some regularity in online marketplaces.