The Leader-Post of Regina, Saskatchewan Published 3GAR (3/28/1925)
"The story has, I believe, been told more than once in the newspapers …"
– The Adventure of the Engineer's Thumb (ENGR)
When Sir Arthur Conan Doyle had his stories published that would make up the Case Book of Sherlock Holmes, the stories were first printed in the United States in Colliers Weekly and in the Strand Magazine for the United Kingdom. The North American Newspaper Alliance would offer the stories to its member newspapers a few months later for publication.
Several years ago, we shared images of when the Philadelphia Evening Bulletin published The Adventure of the Three Garridebs. Later, we shared the Baltimore Sun version of the story as well as the Los Angeles Times version. We have recently been able to obtain scans of some of the additional newpapers that also published The Three Garridebs as well and will be sharing them in several upcoming posts.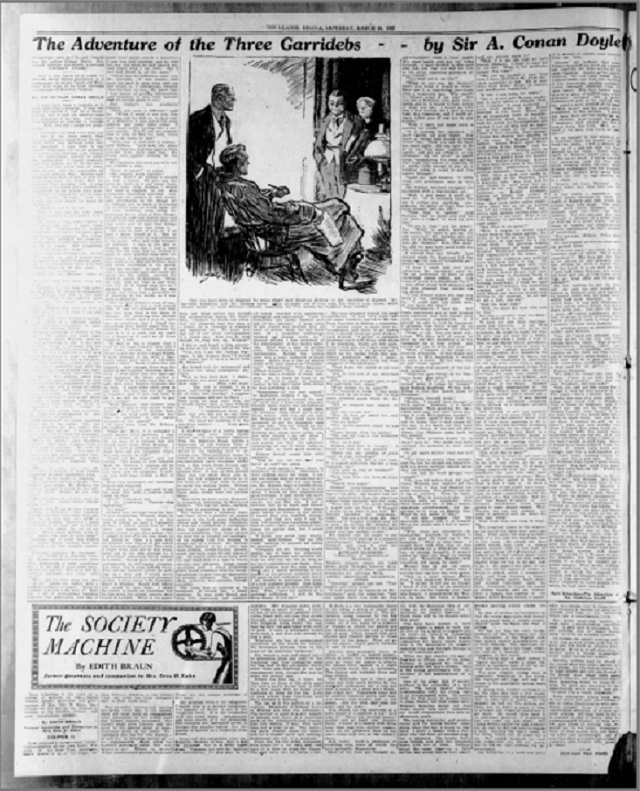 Today, we are sharing a scan of The Regina (Saskatchewan Canada) Leader – Post of Saturday, March 28, 1925.  You can view a scan of the entire page by clicking on the picture of the page. This is our first time sharing the printing of the 3GAR story in a non-US newspaper. As has been the case in many of the newspapers printing the story, they only utilized one of Frederic Dorr Steele's illustrations.