The Ancient Greek Coins Stolen By Le Chevalier in Elementary's The Leviathan Episode
"Somewhere in the vaults …"
– The Problem of Thor Bridge (THOR)
In the tenth episode of Season one of Elementary, airing December 13, 2012, the opening scene is of a bank vault robbery in progress. The supposedly uncrackable bank vault called "The Leviathan" is breached for the second time, Sherlock is called in to figure out what went wrong. When the vault was breached for the first time, the heist was committed by a once-in-a-lifetime assembly of world class criminals. Because they went to jail for the crime, the vault company cannot imagine how anyone else got in. When Sherlock learns that not even he can break into the Leviathan, he realizes that the second group of criminals must somehow be connected to the first.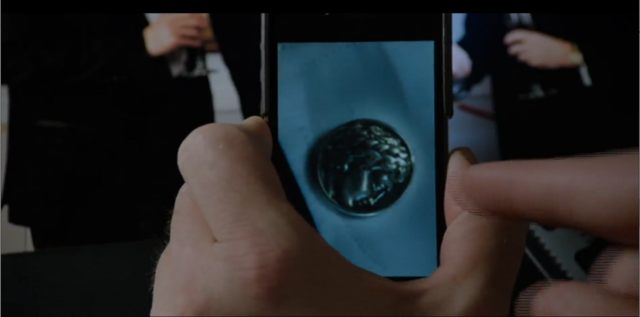 While investigating the case, Sherlock's attention turns to a master thief know as Le Chevalier. Doing research, Sherlock comes across a photo of a benefactor attending a benefit gala. The photo shows the gentlemen wearing cufflinks of ancient greek coins, which were stolen in a robbery attributed to Le Chevalier.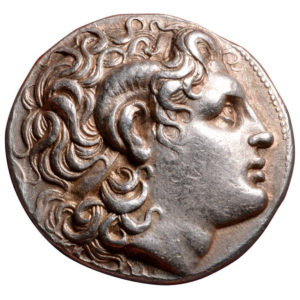 The coin in the screen capture appears to a portrait of Alexander the Great. The coin to the left is a Silver Tetradrachm of  King Lysimachus, one of Alexander's generals who divided his vast empire after his death in 323 BC. These coins were struck between 305-285 BCE and carried Alexander's portrait as an attempt to prove the King's legitmacy as a successor to Alexander. The silver coin is about 3 centimeters in size, which would a good size for cufflinks.
Returning to the episode, Sherlock has pictures of tray of ancient coins that had been stolen allegedly by Le Chevalier.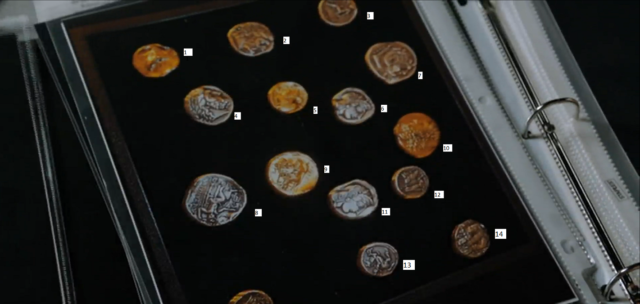 There are 14 coins in the picture above. With the assistance of Kerry Wetterstrom of CNG Coins, we believe we have identified 7 of those 14 coins.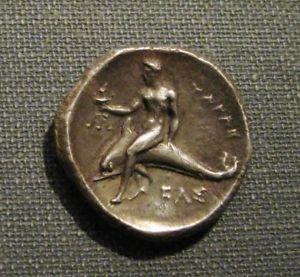 1. Calabria, Tarentum. AR Nomos (Stater) reverse
2. Not certain
3. Not certain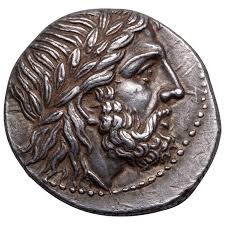 4. Macedon, Kings of. Philip II. AR Tetradrachm obverse
5. Not certain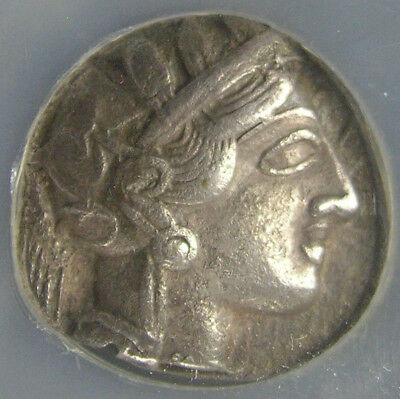 6. Attica, Athens. AR Tetradrachm obverse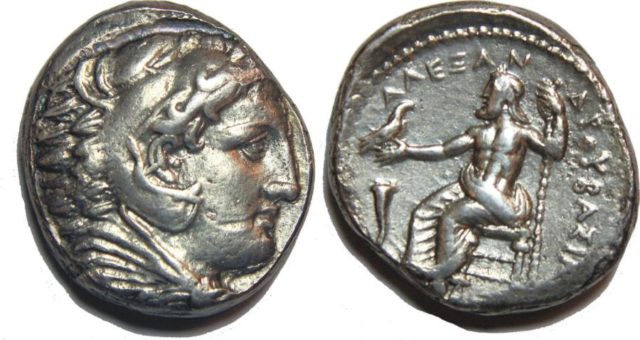 7. Macedon, Kings of. Alexander III 'the Great'. AR Tetradrachm obverse
8. Macedon, Kings of. Alexander III 'the Great'. AR Tetradrachm reverse
9. Not certain
10. Not certain
11. Same as #6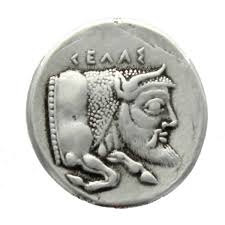 12. Sicily, Gela. AR Tetradrachm reverse
13. Not certain
14. Not certain
Later this month, the final season episodes of Elementary will begin airing. It will be interesting to see if there are any other numismatic angles in the plots in these remaining episodes.