BSI Adds Four Garridebs In Its 2019 Class
"If you have a fancy to see your name in the next honours list"
– The Adventure of the Bruce-Partington Plans (BRUC)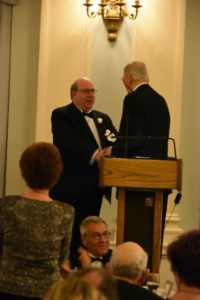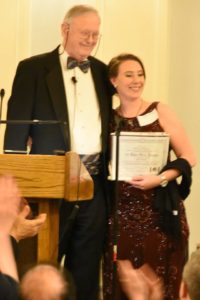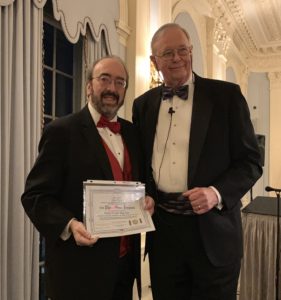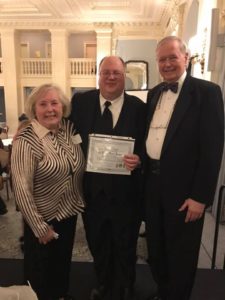 BSI's Wiggins (Michael Whelan) presents BSI Membership Certificates to (clockwise, from top left): Ira Brad Matetsky, Monica M. Schmidt, Michael McSwiggin and Greg D. Ruby – Photos by Will Walsh, Will Walsh, Frank Cho and Burt Wolder.
One of the highlights of the annual Baker Street Irregulars is towards the end of the night's program where new BSI members are presented with their certificate, shilling and investiture name. At this year's festivities featured nine individuals being awarded shillings.
The second investiture of the evening was The Final Problem and was awarded to Ira Brad Matetsky, the 49th Garrideb.
The third investiture of the evening was Julia Stoner and was awarded to Monica M. Schmidt, the 59th Garrideb.
The fourth investiture of the evening was The Seven-Per-Cent Solution and was awarded to Michael McSwiggin, the 74th Garrideb.
The fifth investiture of the evening was Bulldog Pin with Ruby Eyes and was awarded to Greg D. Ruby, the 6th Garrideb.
I think you will admit that was a pretty good stretch going there for The Fourth Garrideb….
Robert S. Katz, the 29th Garrideb, was able to be the proud father as his son, Alex, was the evening's first investiture, Sarasate.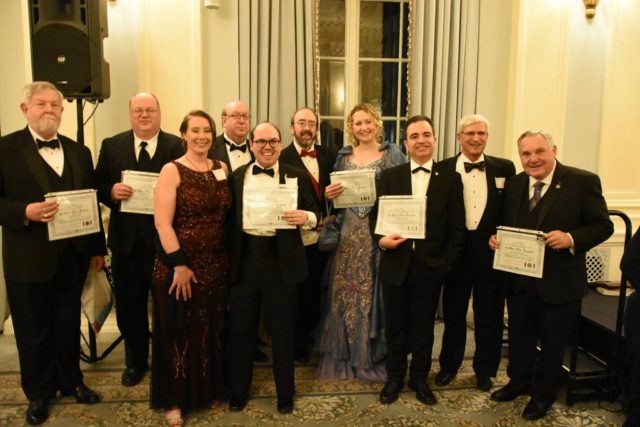 The BSI Class of 2019 (left to right): Terry McCammon "Young Stamford,"  McSwiggin, Schmidt, Matetsky, Alexander Katz "Sarasate," Ruby, Bridgette Latella "Holmes's Alpenstock," Michelle Lopez "Attenta, Pericolo," John Knud-Hansen "The Rascally Lascar," and Ronald S. White "The Cabinet Photograph" (1985). Photo by Will Walsh.
Congratulations to the entire BSI Class of 2019!