The 1911 Film of "Trailing the Counterfeiter"
"… we might appear to be two theatre-goers …"
– The Adventure of Charles Augustus Milverton (CHAS)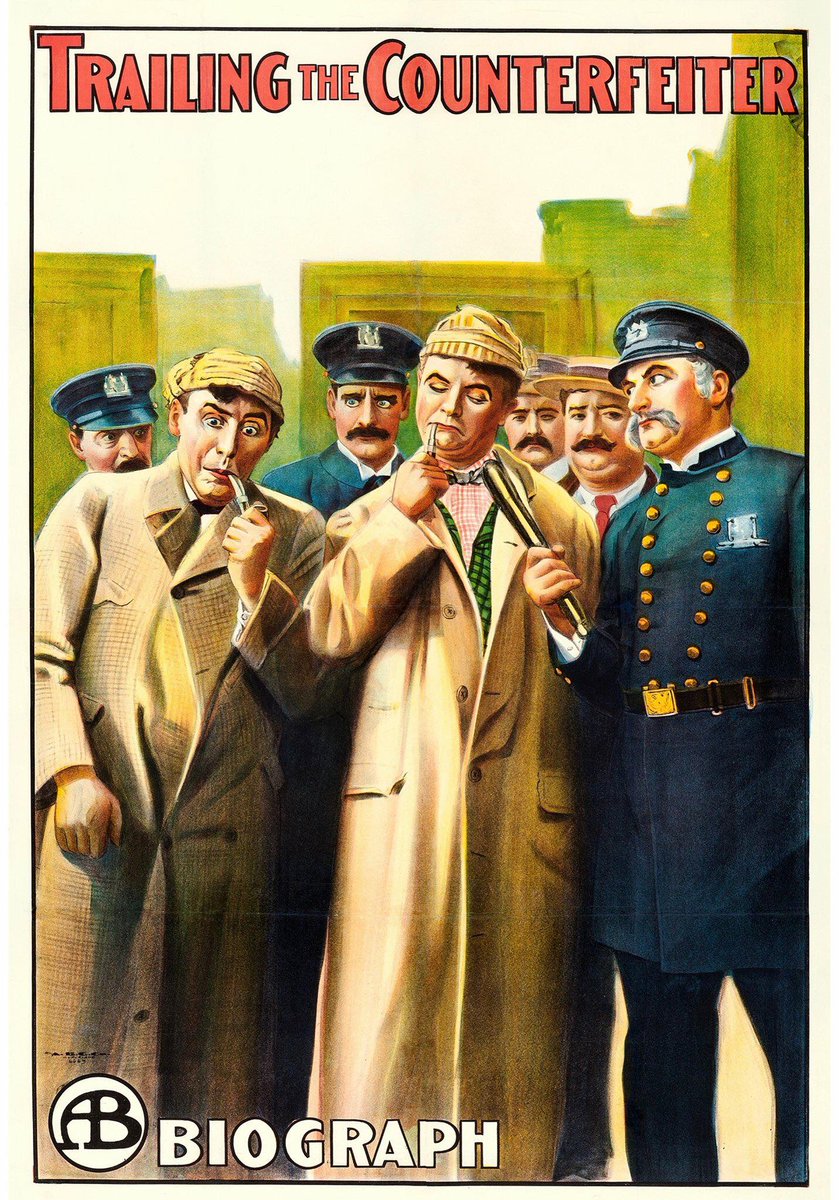 In addition to collecting Sherlockian numismatica, your editor actively collects film and video that portrays Holmes. The 78th Garrideb, Phillip G. Bergem, has for many years maintained a database of Sherlock Holmes related films and television shows. That checklist can be downloaded HERE.
In reviewing the database, I was intrigued by an entry for a 1911 film – Trailing the Counterfeiter. It is the second of 11 movies in a series called The Two Sleuths that starred Mack Sennett and Fred Mace. The first five movies in the series were produced by the Biograph Company, while the remainder would be done by Keystone Studions, which was started by Sennett.
The IMDB offers up the following summary of the film:
This is another big mystery on which the two famous Biograph Sherlocks go to work. These two sleuths, as before, nearly catch the criminal. When they read in the newspapers of the mystery, they set out to solve it. They, of course, trail the wrong man, while real detectives run down the right one, and also arrest the sleuths for butting in. The police captain, however, lets them go, but later, when they, thinking they have discovered the crook's hiding place, blow in the wall of the police station, they are cooped up.
I like to think that the two-reeler would have something to do with counterfeit money, but I am not aware of any surviving prints. Hopefully, a copy might be "discovered" in the future to verify my thinking. The movie poster for the film doesn't offer up any clues.
This past April, Heritage Auctions sold the above movie poster from Trailing the Counterfeiter for $5,258 (including a 19.5% buyers premium at auction. Here is how they described the lot:
Trailing the Counterfeiter (Biograph Studios, 1911). One Sheet (27.75″ X 41″).
Biograph Studios was the training ground for many later film directors and stars. This early short subject stars comedy director and producer Mack Sennett, later of Keystone Studios fame, seen second from left. To the right of him with pipe in mouth facing the wrath of a policeman (Alfred Paget) is Fred Mace who would become a major actor in the Keystone comedies and most famous in the Keystone Kops. This very rare poster, the only copy that we are aware of, is a bit of cinema history as this was also directed by a young Sennett, only his 30th credit out of a career of over 300 short films. Professional conservation has addressed slight touchup to the folds and scattered pinholes into the background. There were some tiny chips and tears in the borders and folds. This poster is as bright as the day it was printed. Very Fine- on Linen.