Jeremy Brett and Edward Hardwicke on a Phone Card
"Thanks to the telephone…"
– The Adenture of the Retired Colourman (RETI)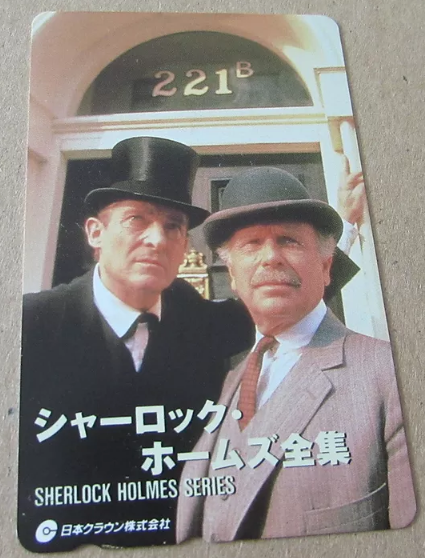 Many of the visitors to this website probably recall the days when pay phones were a common site when walking down a city sidewalk or inside a hotel lobby. You would drop a few coins into the phone, dial the number and make your call. Perhaps you would use a calling card if you were making a long distance call. In the mid 1990's, there started to appeared prepaid calling cards by some enterprising companies, such as AmeriVox. These prepaid calling cards would generally have 50 call units that would be redeemed at a fixed ratio as the call progressed, until the card would have no remaining call units.
In Asia, prepaid calling cards are quite prevalent and frequently used to promote products or services. Public phones are equipped with card readers. A user would insert the prepaid card into the reader, make the phone call and when finished remove the card. The card reader would punch a small hole into the card, prior to its removal, showing approximately how many call units remain, if any.
This particular phone card shows us Jeremy Brett and Edward Hardwicke outside of 221B Baker Street on one of the episodes of the Granada television series of Sherlock Holmes that began in 1984. I'm sure one of the afficionados of this series might be able to tell us what episode this came from.
Jeremy Brett would portray Holmes in all 41 episodes of the series. Hardwicke replaced David Burke after the first 13 episodes were filmed. These two also appeared together in a stage play, The Secrets of Sherlock Holmes, during 1988 and 1989.
Below, we have the Sherlock Holmes mini-episode of The Four Oaks Mystery. Brett and Hardwicke's performance was one of a four-part sequence of stories featuring the stars of four ITV (Granad's parent network) detective shows currently airing with all separately working to solve the same mystery, with two segments airing nightly over one weekend as part of charity telethon sponsored by ITV.
Your editor would be very grateful to be contacted by any Japanese Sherlockians, who could translate these and other Japanese phone cards.