Data! Data! Data! – Shoscombe Old Place
"'Data! Data! Data!' he cried impatiently. 'I can't make bricks without clay.'"
– The Adventures of The Copper Beeches (COPP)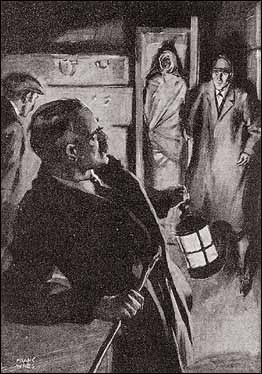 This column is composed of material (Data!) developed for a short course called Appreciating Sherlock Holmes that I teach twice a year in the Community Education Life Enrichment Program for a local community college.  It is composed of "points of information" that are common to many / most / all of the 60 Canonical stories.
The information here has been researched by me or borrowed / stolen from many efforts of other Sherlockians.
HERE GOES      This month's story….. The Adventure of Shoscombe Old Place
CHRISTOPHER MORLEY SAID . . .
As in Silver Blaze, a horse and a dog are the explanation of the mystery: and here also there were legal anomalies that may puzzle students of law.  Dr. Watson was always interested in horse-racing: in order to find out what was happening at the training quarters of the horse Shoscombe Prince (entered in the Dereby) he and Holmes pretended to be fishermen and catch some trout for their supper.
DUMMIES SHORT SUMMARY (FromSherlock Holmes for Dummies by Steven Doyle & David Crowder)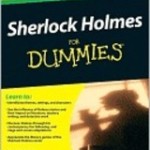 "Sir Robert Norberton has everything riding on his horse winning a race.  Winning will save him from financial ruin.  But why is he visiting an ancient family crypt at night?   And how do you explain the human bone in the furnace?  Sherlock's love of dogs holds the key to solving this case.
PUBLISHING HISTORY
This is the 60th and final Holmes story to be published.
It was first published in the U.S. in Liberty Magazine on March 5, 1927.
In England, it was published in The Strand Magazine in April 1927.
It is part of the Case-Book of Sherlock Holmes collection published by John Murray in 1927.
The American illustrator was Frederick Dorr Steele, and the British illustrator was Frank Wiles.
HOW MANY WORDS?
According to C. E. Lauderback, 1960 – – found on SHERLOCKIAN.NET website of Chris Redmond, at 6,301 words SHOS has the 9th most words (#1 is VEIL – 4,499, #56 if NAVL – 12,701)
THE BEST OF SHERLOCK HOLMES (How do Sherlockians rate this story?)
1927 – Arthur Conan Doyle did not have in on his list of 12 favorites
1944 – The Baker Street Irregulars did not have in their worst 10
CLASSIFYING THE CASE (From the Wandering Gipsies of Grimpen Mire of Decatur, Alabama)
This case is fear of mounting debt.  Holmes solved the problem but the debt was paid because of a winning horse.
CHRONOLOGICALLY SPEAKING
Doyle was often very vague about stating WHEN the tale took place and included few contemporary references to help.  Whether this was done intentionally or unthinkingly, the dating of events in the Canon is a very popular pastime pursued by several of our "scholars" researching and justifying their results to no end.  We will again default to William Baring-Gould's dating of Tuesday, May 6 to Wednesday Mat 7, 1902.  This means that Holmes is 48 and Watson 50.
WHAT ELSE HAPPENED IN 1902?
It is always interesting to see what else in happening at the same time as the stories.
First celebration of Empire Day; renamed "Commonwealth Day" in 1959.
Joseph Chamberlain advocates return to Protection and Imperial Preference.
Anglo-German fleet seizes Venezuelan fleet to recover debts and reparations.
Peace of Vereeniging, ends Boer War.
Salisbury resigns, succeeded as Prime Minister by Arthur Balfour.
Anglo-Japanese Treaty, for mutual defense and to maintain status quo in Far East.
Institution of the Order of Merit for distinguished service to the state; limited to 24 holders at one time.
Education Act abolishes School Board system. Local control goes to town and county councils.
British Academy granted Royal Charter.
Esperanto introduced to England.
Establishment of Metropolitan Water Board, supplying London.
Arthur Conan Doyle is knighted.
Franco-Italian secret treaty; Italy to remain neutral if France were attacked by a third power.
Triple Alliance (Germany, Austria, Italy) renewed to 1914.
French work day reduced to 9 1/2 hours.
Pierre, Martinique, destroyed by earthquake.
Abdul Hamid gives Germany concessions to build railway to Baghdad; rail system to stretch from Hamburg to the Persian Gulf.
A. Krupp takes over Germania shipbuilding yard at Kiel; great armaments firm develops.
Conan Doyle publishes The Hound of the Baskervilles.
Beatrix Potter publishes Peter Rabbit.
Enrico Caruso makes his first gramophone record–154 recordings in all.
Picasso paints Nude, Back View.
Wireless telegraphy applied to ships.
Trans-Pacific Cable laid.
Completion of Aswan Dam in Egypt.
HOLMES AND WATSON – PERSONAL INFO
Once again, Holmes and Watson both residing at 221B
DRAMATIS PERSONAE
SIR ROBERT NORBURTON, an adventuresome raiser of race horses.
LADY BEATRICE FALDER, Sir Robert's sister who lives with him at Shoshcombe and raises prize-winning spaniels.
JOHN MASON, head trainer for Sir Robert. Brought the case to Holmes.
CARRIE EVANS, maid of Lady Beatrice.
NORLETT EVANS, Carrie's husband. An actor.
SAM BREWER, a money lender. Once horse-whipped by Robert.  Now his chief creditor.
JOSIAH BARNES, owner of the Green Dragon Inn. He took Lady Beatrice's spaniel.
SANDY BAIN, Jockey for Robert.
HARVEY MASON, son of John.
STEPHENS, butler to Robert and Beatrice.
SHOSHCOMBE PRINCE, the fastest colt in England.
HALF BRO. TO THE PRINCE, although very similar in appearance to Prince, not nearly as fleet of foot.
MERIVALE, of the Yard. A friend of Holmes.
"QUOTABLE SHERLOCK"
The final tale written really gives us many memorable words
Holmes to Watson – "By the way, Watson, you know something of racing?"
Watson to Holmes in reply – "I ought to. I pay for it with about half my wound pension."
Holmes to Watson – "Things seem to be of a curiously mixed character. But that should surely help us.  It is only the colourless, uneventful case which is hopeless."
Holmes to Watson about Sir Robert – "You do occasionally find a carrion crow among the eagles."
Holmes to Watson – "Dogs don't make mistakes."
HOLMES' FEE
No fee is mentioned. Since Norburton got enough money to settle his debt, Holmes should have received a reasonable fee.
SHERLOCK ON THE BIG SCREEN & THE LITTLE SCREEN
The tale's low popularity had led to only having two presentations.
1968 – Shoscombe Old Place by Peter Cushing as part of the 1-year BBC series.  All copies are lost.
1991 – Shoscombe Old Place with Jeremy Brett and Edward Hardwicke in the Granada/BBC series.
SHERLOCK HOLMES IN DISGUISE
The Master of disguise used the deception of being disguised 14 times, in 11 of the 60 stories but none were used in this tale.
UNRECORDED CASES (That involved Holmes)
Watson would tease / torture his readers with "I know something you don't."  Oh my, how Sherlockians love this category.  I have in excess of over 150 examples in my collection.
The St. Pancreas Case
The coiner Holmes ran down by the zinc and copper filings in his cuff
FAINTING IN THE CANON (courtesy of Sherlockian Karen Murdock)
In this tale, no one faints, almost faints, pretends to faint, or even mentions fainting.
Fainting is extremely common in the Canon, appearing, in some form, in 37 of the 60 tales.  In 21 cases, someone actually faints.  In 22 cases, someone almost faints.  And in 5 cases, someone pretends to faint.  In this month's story, no one faints.
HOLMES'S PUBLISHED & PROJECTED WORKS
Sherlockians love this topic and are regularly searching for these items. Holmes mentions published or projected works in 11 of the stories.  Holmes makes no mention in this tale.
NEWSPAPERS (Real and Fictional)
Though included in only 20 tales some of our more obsessed Sherlockians love this one.   None were cited here.
ANNOTATED SHERLOCK
The 60 Sherlock Holmes stories used English as spoken in England from the 1880's until the 1910's.  Some words are foreign to us today and need a "contemporary translation.".  For example:
"barouche" – A four-wheeled carriage with a seat in front for the driver, two double seats
"epithelial scales" – skin
"coiner" – manufacturer/counterfeiter of forged coins
"plunger"- reckless bettor
WEAPONS (from A Compendium of Canonical Weaponry by Dettman and Bedford)
So many things can be considered "weapons" "a means by which one contends against another" utilized in 57 of the 60 tales (all but CREE, 3STU, & YELL). There are several general categories to classify "weapons" that include:  firearms, human agents, cutlery, animals, blunt instruments, extortion, toxin, blackmail, and miscellaneous.  In our story, which is short, you will find any of note.
ODD STUFF
The title of this story was originally to be "The Adventure of the Black Spaniel."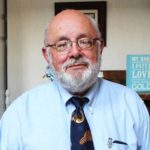 Frank Mentzel, aka Merridew of Abominable Memory, is looking forward for his fall classes of Appreciating Sherlock Holmes this month and is recovering from working in his garden this summer..