Update on HolmeWork Assignment: A Sherlock Holmes Silver Medal from the 1890's?
"She had flung into the lake a bag containing some curious contents."
– The Adventure of The Musgrave Ritual (MUSG)
Back in September 2015, we published one of our first HolmeWork assignments about a possible 1890s silver medal with a scene from a Sherlock Holmes story. We reprinted a comment from the July 7, 2002 issue of The E-Sylum:
Christopher Eimer writes: "The ongoing correspondence in The E-Sylum relating to Sherlock Holmes, and in particular Alan Luedeking's request for numismatic references in today's issue, reminds me of a medal that I purchased many years ago, which is said to illustrate a scene from a SH mystery.
The medal is silver, uniface, and measures 95 mm. (3.75 inches) in diameter, and can be dated to c.1890-1900. It shows a landscape in which a policeman, accompanied by two other men (detectives?) run towards a lake, in the foreground, in which can be seen two men.
The manner of dress and the atmosphere conjured by the scene is certainly redolent of a Sherlock Holmes mystery, and I have never had reason to doubt the attribution. I had hoped that after all these years, I would by chance come across a print or book illustration relating to this medallic image, but that has not been the case.
However, the current correspondence in The E-Sylum raises the chance that this image may well come to be identified.
Correspondence with Mr. Eimer produced no results and having been an open question for nearly three years here, it looked unlikely we would have an answer.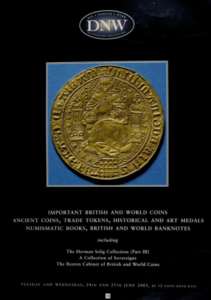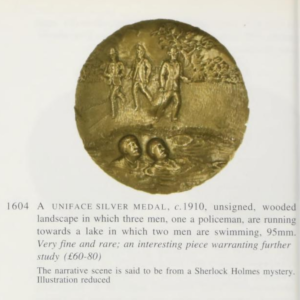 In reviewing items on the Newman Numismatic Portal recently, we have now located a picture of this medal. The auction firm of Dix Noonan Webb conducted an auction over June 24 and 25, 2003. Lot 1604 reads as follows:
A UNIFACE SILVER MEDAL, c. 1910, unsigned, wooded landscape in which three men, one a policeman, are running towards a lake in which two men are swimming. 95mm. Very fine and rare; an interesting piece warranting further study (£60-80)
The narrative scene is said to be from a Sherlock Holmes mystery.
So we have now identifed the medal. Is anyone out there able to place this scene depicted within a Sherlock Holmes story? Your editor has serious doubts that this medal ties into a Holmes mystery. What do you think?