Faces of Lestrade: Frank Finlay
"… besides being an incomparable actor. "
– A Study in Scarlet (STUD)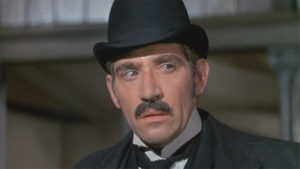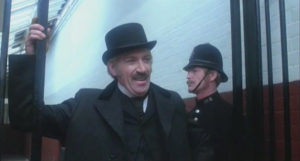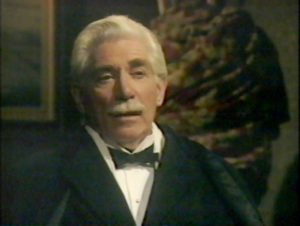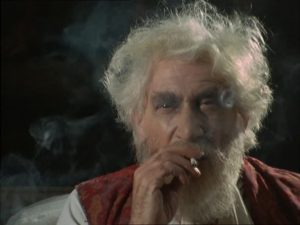 Frank Finlay, clockwise from upper left, as Lestrade in A Study in Terror (1966); as Lestrade in Murder by Decree (1979); as Professor Coram in The Golden Pince-Nez (1994); and as Arthur Conan Doyle in The Other Side (1992)
Charles Prepolec, the 75th Garrideb, posted the following item on Facebook on the sixth of August:
Raising a glass to the memory of woefully underrated actor Frank Finlay (6 August 1926 – 30 January 2016) who was born #OTD in 1926. His Sherlock Holmes related credits include two appearances as Inspector Lestrade, first in A Study in Terror (1966) opposite John Neville as Sherlock Holmes and again in 1979 for Murder By Decree with Christopher Plummer as Holmes. He has also played Arthur Conan Doyle twice, once for television in The Other Side (1992) with a youthful Richard E. Grant as a Sherlock Holmes of sorts and for BBC Radio in The Man Who Was Sherlock Holmes (1980). He also turned up in the Jeremy Brett Granada Holmes series as the chain-smoking Professor Coram in The Golden Pince-Nez (1994).
Personal favourites among his non-Sherlockian roles include Porthos in The Three/Four Musketeers (1973/1974) and Return of the Musketeers (1989), Abraham Van Helsing in Count Dracula (1977) for the BBC (my second fave Van Helsing) and as the Witchsmeller Pursuivant in The Black Adder (1983). Hell, I even loved him when he turned up on Lovejoy and crapfests like Cthulhu Mansion (1992). Raise a glass in memory to this remarkable actor!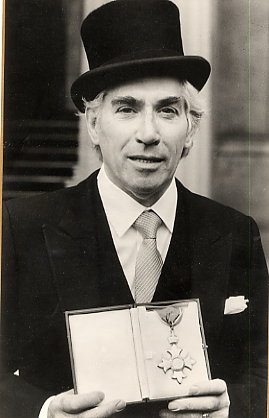 Finlay was made a Commander of the Order of the British Empire in the New Year's Honours of 1984. He was presented with his CBE by the Queen on February 22, 1984. For those who would like to learn more about Finlay, check out his biography.
The badge for the CBE is in the form of a cross patonce (having the arms growing broader and floriated toward the end), the obverse of which bears the left facing busts of King George V and Queen Mary; the reverse bears George V's Royal and Imperial Cypher. Both are within a ring bearing the motto of the Order. The badges are enamelled with pale blue crosses and crimson ring, and is suspended from a ribbon that is rose-pink with pearl-grey edges, with the addition of a pearl-grey central stripe for the military division.