The Brasher Doubloon (1947)
"Just think what I could do with five million dollars."
– The Adventure of the Three Garridebs (3GAR)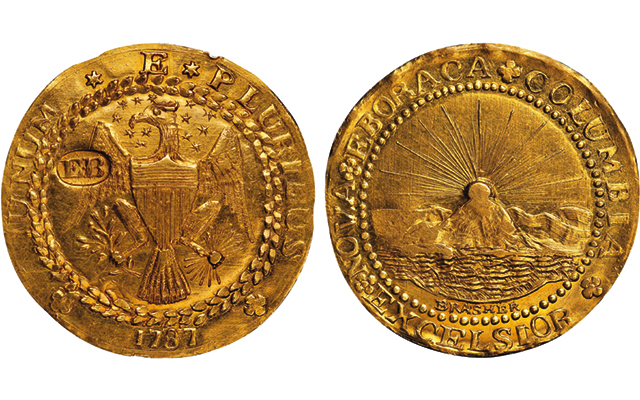 From time to time, we will feature a post here regarding other fictional detectives, such as Gregory Hood or Max Carrados. Today, we will focus on the 1947 film The Brasher Doubloon, which is based on the Raymond Chandler novel The High Window. This novel featured Chandler's famous detective, Phillip Marlowe.
There are seven known 1787 Brasher Doubloons: one unique coin with the designer's "EB" punchmark on the eagle's breast, and six others with the punchmark on the eagle's wing on the left side of the coin. The "Monaco" specimen with the punchmark on the wing contains 26.4 grams of .890 fine gold and is graded Mint State 63 by the Numismatic Guaranty Corporation. This coin is insured for $10 million.
The obverse design of the Brasher Doubloon shows an eagle holding an olive branch in one claw and arrows in another to symbolize that the United States wanted peace but was ready for war.  Thirteen stars surround the eagle's head (representing the original 13 colonies), with the E PLURIBUS UNUM ("Out of Many, One") above.
The reverse design depicts the sun rising over a mountain in front of a sea, a symbolic of a new beginning.  Around the design is another Latin legend, NOVA EBORACA COLUMBIA EXCELSIOR.  Columbia was a nickname for the United States, where as "Nova Eboraca" translates to New York and "Excelsior" is Latin for "ever higher."
In addition to his punchmarked initials on the obverse, Brasher's full last name is on the reverse. Brasher served in various political and government offices in New York and later was a neighbor of George Washington on Cherry Street in lower Manhattan.
In a 1922 auction catalog description of this coin, B. Max Mehl stated: "For historical interest and numismatic rarity, this great coin is second to none. It is rightfully recognized as one of the greatest numismatic rarities of the world."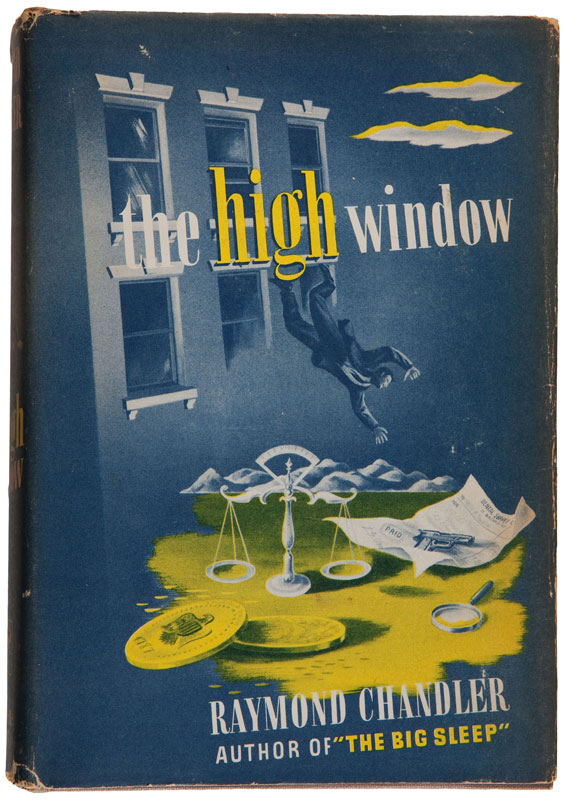 First edition of The High Window – Photo by Heritage Auctions
The Brasher Doubloon was the subject of a 1942 Raymond Chandler novel, "The High Window," and a subsequent 1947 movie, "The Brasher Doubloon," based on Chandler's story fictional detective Philip Marlowe.
On a personal note for your editor, he was lucky enough to be able to hold one of the Brasher Doubloons at the 2015 American Numismatic Association's National Money Show in Portland, Oregon. Check out the photo below!