The Pontine Press Sherlock Holmes One Hound Banknote
"A printing press – a counterfeiter's outfit …"
– The Adventure of the Three Garridebs (3GAR)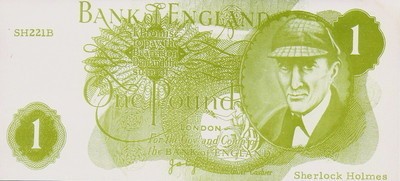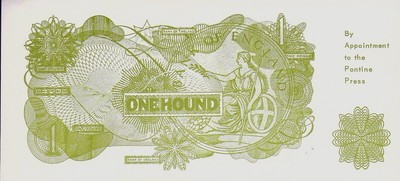 The above pictured fantasy banknote was created during the 1970's by Luther Norris's Pontine Press and was based on the actual Bank of England 1 pound notes circulating at the time, pictured below. The note is a faithful recreation of the current circulating note, with four changes. On the front of the note, Queen Elizabeth's portrait was replaced with Sherlock Holmes and the two serial numbers were replaced with "SH221B" and "Sherlock Holmes". On the reverse, the central mention of ONE POUND has been modified to read ONE HOUND. The fantasy notes measures 70 millimeters by 152 millimeters and is printed with a lime green ink coloring.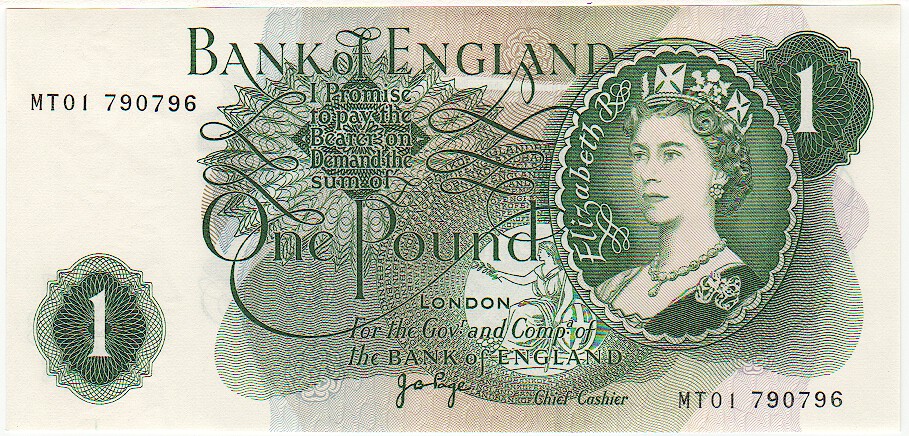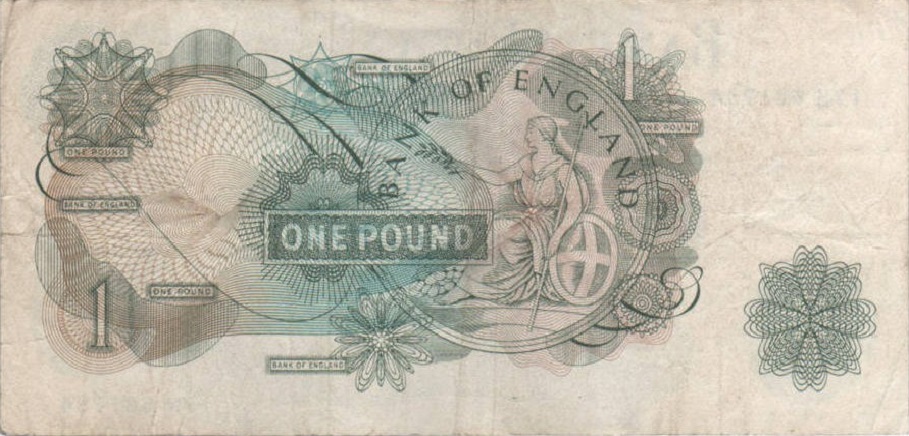 This British Pound Banknote was in circulation from 1969 – 1978, at which time this design was discontinued & replaced.
We can learn a little bit about Luther Norris with this entry from the 13th Garrideb, Peter E.Blau in his Black Peter's Logbook entry of February 4, 2013 – Debonair and Splendid:
Luther "Doc" Norris, born in 1920, served in Alaska during World War II and then was a newspaperman and as a writer for Alaskan magazines. Sourdough Tales, a collection of his stories, was published by [James A.] Decker in 1947. But it was after Luther moved to southern California that he found the worlds of Sherlock Holmes and Solar Pons.
He was and still is much better known to Sherlockians as a devoted admirer of the Solar Pons stories. Luther published The Pontine Dossier from 1967 to 1977, and he founded and (as Lord Warden of the Pontine Marshes) presided over The Praed Street Irregulars, his whimsical homage to The Baker Street Irregulars. When he found that the phone company charged extra for unlisted numbers, he listed himself in the phone book for many years as "Pons, Solar", knowing that friends would easily be able to find him. Luther also published Canonical apocrypha and Sherlockian poetry and scholarship from his Pontine Press, and commissioned and sold imaginative Sherlockian figurines (his Investiture in the BSI was appropriately "Monsieur Oscar Meunier, of Grenoble").
Luther died in 1978, mourned by friends and correspondents. Julian Wolff in his Baker Street Journal obituary for Luther, wrote that "it does not seem likely that there is a Sherlockian collection of any importance that does not contain examples of Luther's work."
Blau also shared that "he also used obverse-only prints for note-paper (I have one, with a written note on the back)."
Thanks to the 13th Garrideb, Peter E. Blau, for the scans and the background information on this fantasy note.