Nano Lopez's 2009 "Sherlock" Medal
"If I were a sculptor …"
– The Problem of Thor Bridge (THOR)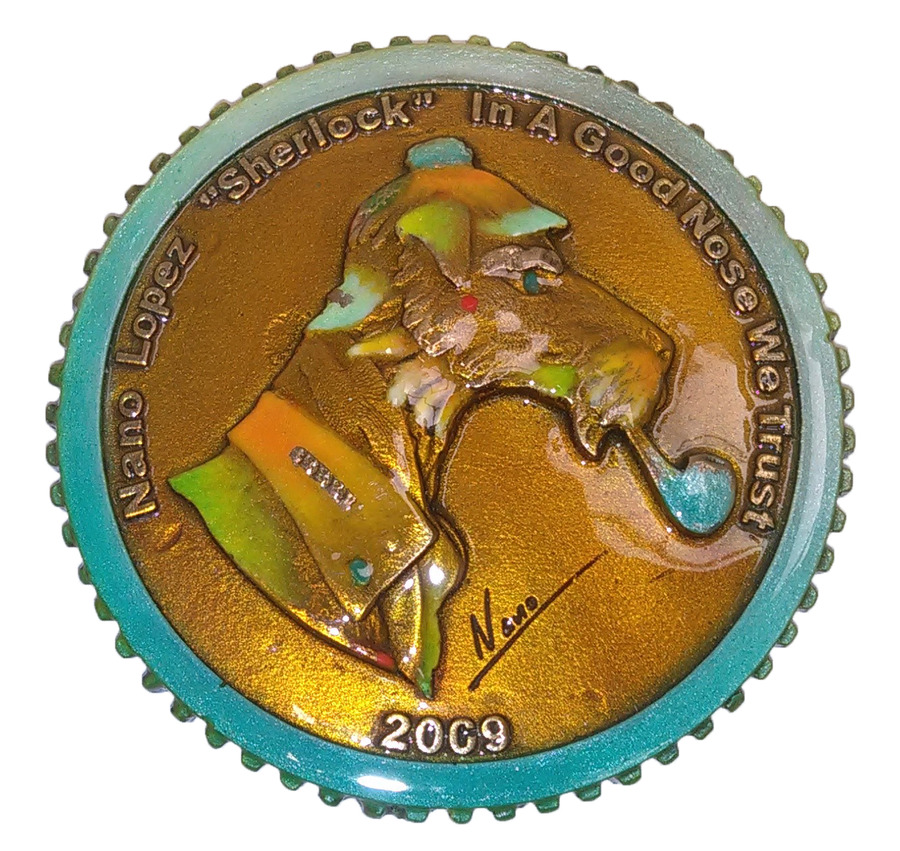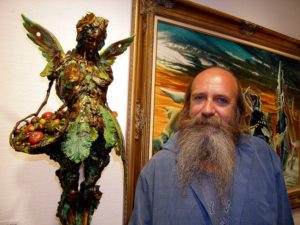 Walla Walla, Washington is home to the studios of Nano Lopez, a sculptor born in Bogota, Columbia. His artistic biography states:
"Nano Lopez is an artist gifted with the rare ability to see the world as a child sees it, with exploration, wonder, and creativity. He is deeply fascinated by the sometimes troubling mysteries of life and its inherent struggles.
In his artistic process, Nano integrates organic textures and synthetic, human made objects into his bronzes to create pieces of art that reflect the same depth and richness he sees in the world around him. Although colorful and whimsical, Nano's work is anything but child's play and invites careful, sustained viewing. The rich and intricate textures and bright colors are subtlety evocative of his native Colombia and of other Latin art, but his depth of understanding and free associations transcend culture and time.
Nano's pieces describe a world beyond the borders of ordinary maps where an unfettered imagination allow nature, science, folklore and modern industrialism to exist seamlessly together. His work invites us to look at the world more carefully and discover for ourselves the rich interconnections of life. It reminds us that the miracle of life exists at all levels, from the patterns on a leaf to the profound mysteries of the universe.
Lopez has created a series of sculptures that he calls Nanimals and describes them as:
Nanimals evoke the magic of seeing the world again for the first time with the eyes of a child. In his artistic process, Nano integrates organic textures and human made objects into his bronzes to create pieces of art that reflect the same attention to the magic, wonder, and creativity that children find in the world around them. Yet, Nanimals are anything but child's play.They describe, as does a fellow Colombian, the Gabriel Garcia Marquez, a world beyond the borders of ordinary maps, where nature, an unfettered imagination,science and folk lore, monolithic and modern mechanical society exist seamlessly together.
Observe closely Nano's signature Nanimals and discover not only the sight and colors of a Colombian market place, but a deep respect for life,clearly observed, where everything, even mischievous goat balanced on a pile of cast away tires is amazing~exceeding amazing.
One of the Nanimals that Lopez has created is called Sherlock, "a well weathered Welch terrier. He's extremely experienced in the art of finding things, that's why for many years now he's been working as a detective. Sherlock refuses to give up his pipe, doesn't mind rainy weather or cats, and he used to be a part of the K9 units, and on Saturdays he just goes fishing."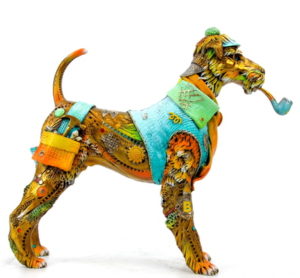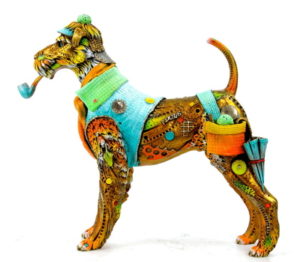 Lopez has created three different sizes of Sherlock – a Large 14″ x 6″ x 12″ (480 made) pictured above; a life-size model 22.5″ x 28″ x 10.5″ (220 made); and a smaller version of 10.5″ x 11″ x 4″ (320 made and are sold out). All three versions have some small differences between them. You can view all three versions on his WEBSITE under the heading of Portfolio.
In 2009, Lopez created a bronze collector "coin" featuring his Sherlock design and this is pictured at the top of this post.
OBVERSE: Nano Lopez "Sherlock" In A Good Nose We Trust / (a right-facing Welch Terrier with a pipe and wearing a deerstalker cap) / 2009
REVERSE: (blank)
76 mm (3 inches), Bronze, Round
If you are interested in purchasing one of these collector "coins," it will set you back three figures. According to the gallery's website, you have to have a minimum purchase of either $12,500 or $2,500 (it's a little confusing) before you can buy one of these medals.
The promotional video below, from Lopez's website, gives some nice insight into his thinking about his sculptures. The Sherlock scultpure makes a few appearances throughout the video.