Arthur Conan Doyle and the Order of the Crown of Italy
"If you have a fancy to see your name in the next honours list"
– The Adventure of the Bruce-Partington Plans (BRUC)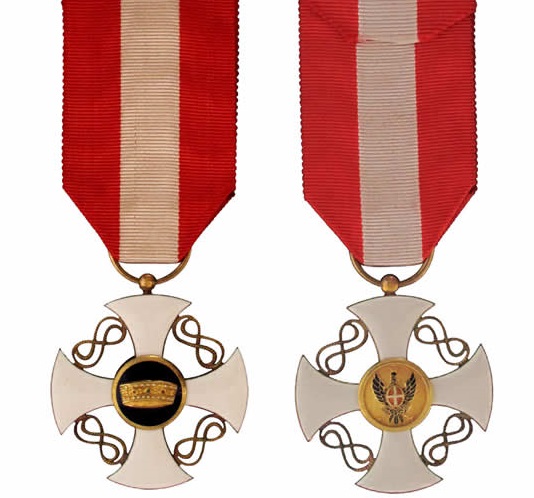 In 1898, Arthur Conan Doyle visited Italy with his brother-in-law, E. W, "Willie" Hornung (the novelist who created the gentlemen burglar "Raffles"). During his tour, King Umberto I of Italy conferred the Order of the Crown of Italy upon Doyle and made him a Knight.
There are five classes of the Order – Knight Grand Cross, Grand Officer, Commander, Officer and Knight. Doyle's honor was the lowest of the five classes available. The order was established by Umberto's father, King Vittorio Emanuele II, in 1868 to commemorate the unification of Italy that occurred in 1861. The Order was awarded fairly liberally, for both civilians and military merit.
The Order is an 18 karat gilt cross and enamelled in white. Having curved edges, there are "Savoy" knots between the four arms of the cross. The obverse of the badge features the Iron Crown of Lombardy on a background of blue enamel. An eagle, in black enamel, bearing the Savoy cross is on the reverse of the Order and has a gold background. The Order hangs from a ribbon that is red, white and red.
The Order has not been awarded since Italy became a Republic in 1946.