The Sherlocktopus 1937 Hobo Nickel
"… it was some strange creature …"
– The Adventure of the Engineer's Thumb (ENGR)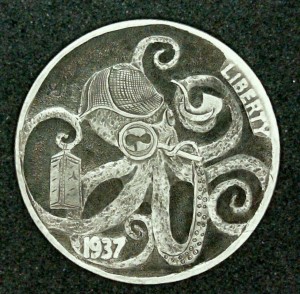 Back in 1992, the Original Hobo Nickel Society was formed to promote the collecting of engraved buffalo nickels that had been produced prior to 1980. Most of these "original" nickels were engraved with nails, knifes, files and perhaps some punches. In the years since the OHNS was founded, there have been many modern hobo nickels (and not just nickels, almost any coin) created by talented artists using microscopes and power tools. Depending on the quality of the work, these modern hobo nickels can cost many hundred of dollars.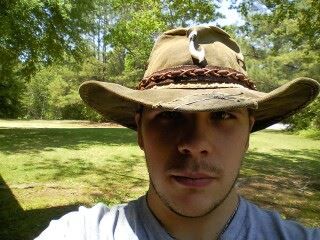 One of the modern artists engraving hobo nickels is Jared Eason. Jared's work is relatively new, within the last five years. Additional examples of his work can be viewed HERE.
Eason's design for the Sherlocktopus hobo nickel is quite whimsical. The central design is an octopus wearing a deerstalker cap. In three of the octopus's tentacles are a lamp, magnifying glass and a pipe. it appears that the magnifying glass is looking at a keyhole.