Classical Numismatic Group Sells 2 Coins From ACD Collection
"Here was a case of ancient coins."
– The Adventure of the Three Garridebs (3GAR)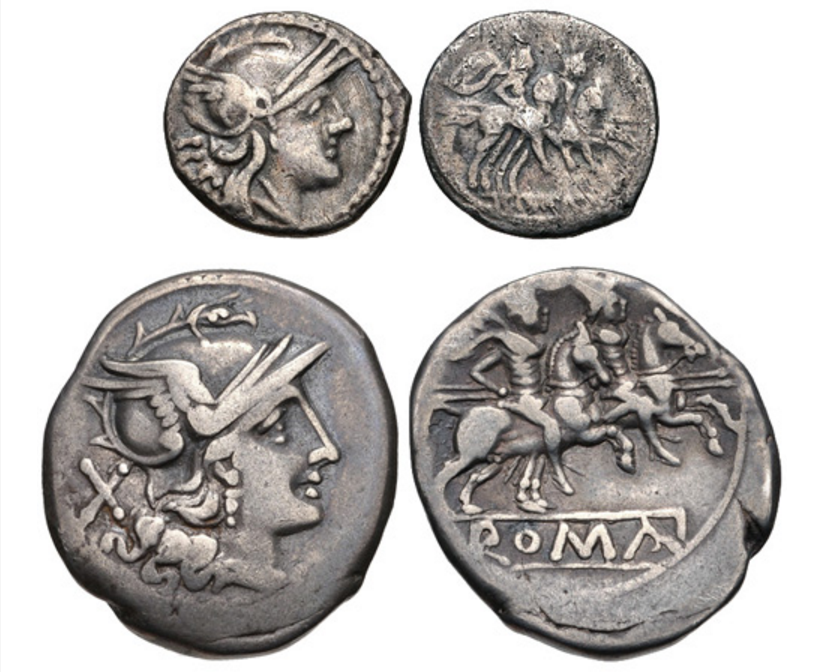 Classical Numismatic Group conducted an online auction of ancient coins that closed on September 28, 2016. One lot would be of interest to the Sherlockian numismatist:
Sale 383, Lot: 458. Estimate $100.
Sold for $240. This amount does not include the buyer's fee.
Anonymous. 179-170 BC. AR Denarius (18mm, 3.84 g, 12h). Rome mint. Helmeted head of Roma right; X (mark of value) behind / The Dioscuri on horseback riding right. Crawford 167/1; Sydenham 311; RSC –. Near VF, toned. // Lot also includes: Anonymous. 211-208 BC. AR Sestertius (12mm, 1.06 g, 4h). Rome mint. Helmeted head of Roma right; IIS behind / The Dioscuri on horseback right. Crawford 44/7; Sydenham 142; RSC 4. Near VF, toned, scratches and marks. Two (2) coins in lot. LOT SOLD AS IS, NO RETURNS.
From the David Wray Collection. One or perhaps both coins reportedly ex Sir Arthur Conan-Doyle Collection, with ticket as sold by Manfra Tordella & Brookes, New York.
12h and 4h refer to the die axis (hold the obverse in the correct orientation, turn it, and the reverse die is described based on the clock: 12h shows no rotation, 4h means that the top of the reverse die is at the 4 o'clock position).
The mentions of Crawford, Sydenham and RSC are to the three standard references to Roman Republic coins.
Michael H. Crawford. Roman Republican Coinage. 2 Vols. Cambridge. 1974.
Edward Allen Sydenham. The Coinage of the Roman Republic. London. 1952.
David Sear, et al. Roman Silver Coins. 5 Vols. London. 1978-1987.
David Wray is one of the founders of the Writing Program at the Massachusetts Institute of Technology (MIT), and won the highest literary prize at MIT. Funded by a career as a Program Manager for early internet companies, he privately pursued interests in numismatics, history, and archaeology, eventually retiring from hi-tech and dedicating his efforts toward researching the complex story about the origins of Christianity.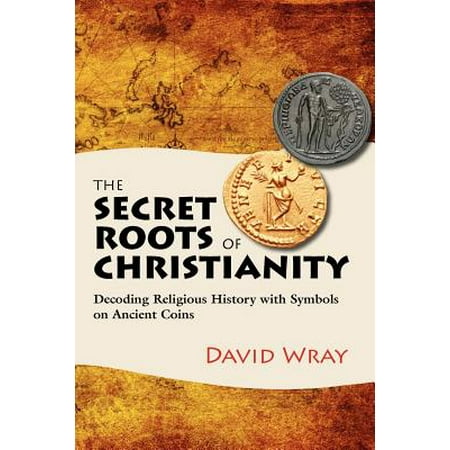 As a numismatist—a coin collector—who had traveled the world pursuing interests in history, the author was invited to join the Society Historia Numorum (SHN). A Boston collectors' organization with a particularly distinguished membership, the SHN served as a mechanism for engaging in numismatic research with other collectors—historians, archaeologists, and writers—exploring the connections between artifacts and history, and publishing his research in numismatic literature.
Wray's book The Secret Roots of Christianity can be purchased HERE.
Thanks to Kerry Wetterstrom of Classical Numismatic Group for sharing this with us.