Sherlock Holmes and Dick Tracy
"… the great detective."
– The Adventure of the Mazarin Stone (MAZA)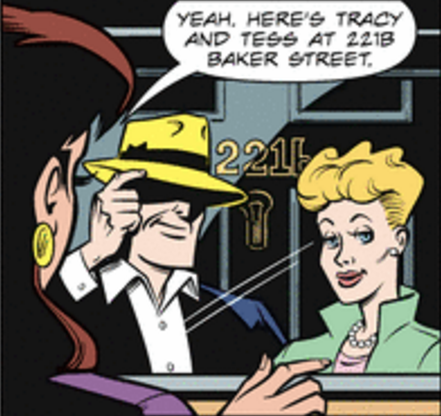 When your editor was much younger, one of the joys of his childhood was running down to our family's living room on Sunday mornings. While Mom would be making breakfast of pancakes for Dad and me, I would spread out the sections of The Baltimore Sun over the living floor, dividing the sections of the newspaper into piles for Dad to read and what I wanted to read. Somehow, the comics section would be in my pile and I would eagerly turn to the back page to read Dick Tracy and see the color version to see how the detective would catch the next set of bad guys.
Dick Tracy was created in 1931 by Chester Gould, who would continue to draw the strip until he retired in 1977. A number of different artists and writers have continued the strip since.  It is currently being produced by Joe Staton and Mike Curtis.
We've touched on Tracy before and his syndicated television episodes of the 1960's, where he was teamed up with Hemlock Holmes. You can read those posts HERE and HERE.
The current story arc for the Dick Tracy strip started on July 5, 2016. Starting with the July 23, 2016 edition of the Dick Tracy comic strip, we start seeing an homage being paid to Sherlock Holmes by the strip's creators. As I write this post, there are still references to Holmes being made.
In June 1990, Warren Beatty and Madonna would star in a big budget film version of Dick Tracy. It wasn't a great film, but did well at the box office. There was a massive promotion campaign for the movie, with a large number of toys, graphic novels, books and marketing tie-ins. They also decided to produce three silver one ounce medals to promote the movie.


There would be three different designs for the obverses: the first feature Mugs'N'Thugs, showing many of the villains that fought Tracy over the years; the second features Warren Beatty as Tracy talking on his two-way wrist radio; and the third design features Madonna as Breathless Mahoney. All three of these medals would share a common reverse, featuring the silhouette of Tracy, facing left, and carrying the Disney copyright and info about the medal's intrinsic values.
Thanks to Patricia J. Villacrusis of Watson's Tin Box and the Sherlockians of Baltimore for sharing this news item with us.