Faces of Holmes: Stewart Granger
"… besides being an incomparable actor."
– A Study in Scarlet (STUD)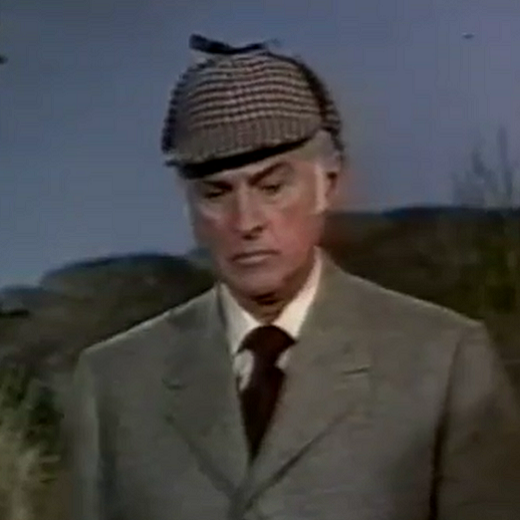 On February 12, 1972, the American Broadcasting Company televised a new version of The Hound of The Baskervilles, starring Stewart Granger as Sherlock Holmes and Bernard Fox as Doctor Watson. This was the first version to be filmed in color in the United States. The film broadcast drew poor ratings and even worse reviews.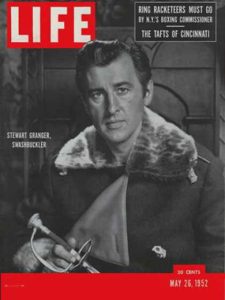 Stewart Granger was an popular leading man in films from the 1940s through the late 1960s. He is known for his roles in films such as Caesar and Cleopatra, King Solomon's Mine, Beau Brummell, and North to Alaska. Granger starred in the television series The Virginian before his role as Holmes.
For the 1952 film Scaramouche, Granger learned how to fence for his role of André Moreau. In a profile of Granger promoting the movie, LIFE, it is mentioned that Granger learned to fence quite well and was the second most capable swordsman in all of Hollywood. The best fencer in Hollywood…. Basil Rathbone. It's a shame that Rathbone never got to use a sword in any of the 14 Holmes films that he starred in.
When World War II broke out, Granger, a Englishman by birth, enlisted in the Gordon Highlanders. Granger suffered from stomach ulcers and was invalided out of military in 1942. At the time, he had reached the rank of second lieutenant.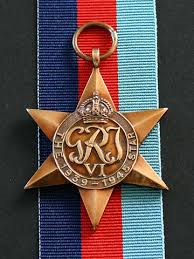 Having served in the British armed forces, Granger was eligible to receive the 1939 – 1945 Star.
The six-pointed campaign star hangs via a ring suspender from a 32mm wide ribbon of three equal bands of colors – Navy Blue, Red and Light Blue. Navy blue represents the Navy, red the Army and the Light Blue for the Air Forces.  The color scheme was suggested by King George VI, with the three equal band widths represent the equal contributions by all three branches of the service.  The stars are struck in yellow copper zinc alloy.The obverse has a central design of the monogram of GRI VI, with a crown on top. A circle, the top of which is covered by the crown, surrounds the monogram and is inscribed THE 1939–1945 STAR.  The reverse is plain.
Below we have a short clip of the 1972 film, with William Shatner appearing as George Stapleton.