Niue Issues 2 Coin Set Featuring Cumberbatch & Freeman
"… so admirably done that it was a perfect facsimile."
– The Adventure of The Empty House (EMPT)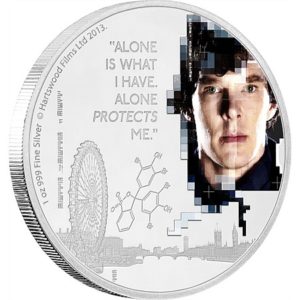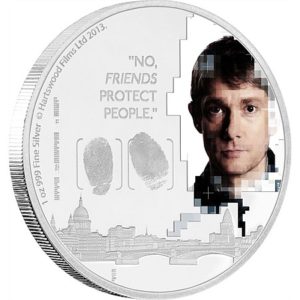 Reverse designs featuring Benedict Cumberbatch and Martin Freeman from BBC's Sherlock on the 2016 Niue $2 Coins
The South Pacific island nation of Niue has just released a 2 coin set featuring Benedict Cumberbatch and Martin Freeman, in their characters of Sherlock Holmes and John Watson of the BBC series Sherlock as part of a promotion for the show's upcoming 4th season.
Niue has contracted the New Zealand Mint to strike this set, limited to 5,000 coins of each design. The obverse of the coins feature Ian Rank-Broadley portrait of Queen Elizabeth II.  The box set also doubles as the certificate of authenticity for the two coins. Both coins are dated 2106. At this time, we do not know who created the two designs with Cumberbatch and Freeman.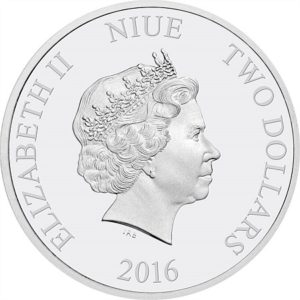 OBVERSE (Both Coins): ELIZABETH II NIUE TWO DOLLARS / (Ian Rank-Broadley's effigy of Queen Elizabeth II, facing right) / 2016
REVERSE (Cumberbatch): 1 oz 999 Fine Silver © Hartswood Films Ltd. 2013. / ALONE / IS WHAT / I HAVE. / ALONE / PROTECTS / ME." / (pixelated colorized picture of Benedict Cumberbatch as Sherlock Holmes) / (chemical diagram) / (skyline of London featuring the London Eye ferris wheel, London Bridge and the House of Parliament with Big Ben)
REVERSE (Freeman): 1 oz 999 Fine Silver © Hartswood Films Ltd. 2013. / NO, / FRIENDS / PROTECT / PEOPLE." / (pixelated colorized picture of Martin Freeman as John Watson) / (two individual fingerprints within brackets) / (skyline of London featuring St. Paul's Cathedral, London Bridge and the 30 St Mary Axe Tower, aka The Gherkin)
Round, 40 millimeters, 1 ounce .999 Silver, milled edge, proof finish, 5,000 mintage (each coin)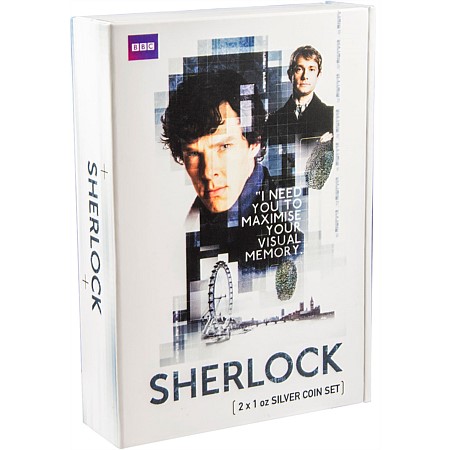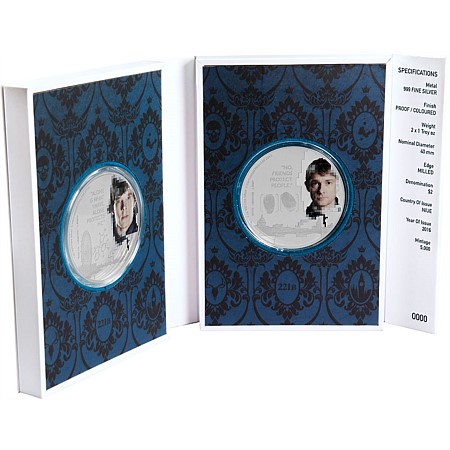 The island nation of Niue is located 1,500 miles northeast of New Zealand in the South Pacific Ocean, The island is approximately 100 square miles and has a population of under 1,200 people. The island is self-governed under the realm of New Zealand and Queen Elizabeth II is the monarch of the island.  A major source of income for this nation is the production of limited edition collector coins, much like the island of Tuvalu which we have discussed a few times on this site.
These coins were announced in late July 2016 and can be purchased on the website of the New Zealand Mint for $120 plus shipping. It can also be found listed in some online auction services for a variety of prices.  If interested in purchasing, you would be wise to compare offerings.
The New Zealand Mint also shows the first official trailer for season 4 of BBC's Sherlock, which we share below.
Pictures of Coins and Packaging from the New Zealand Mint