Baker Street Meals And Menus: The Three Garridebs (1976)
"We had a pleasant little meal together …"
– The Adventure of The Cardboard Box (CARD)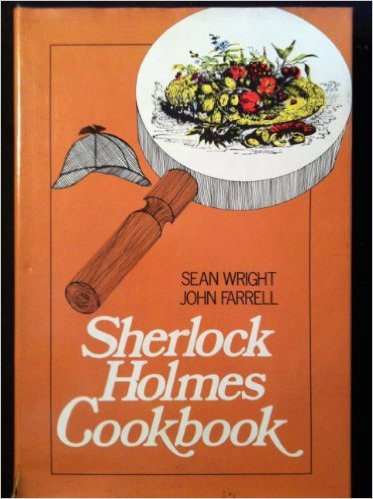 Editor's Note: In 1976, Bramhall Hall published The SHERLOCK HOLMES COOKBOOK; Or Mrs. Hudson's Stoveside Companion Formed Upon Principles of Economy and Adapted to the Use of Private Families by Two Gentlemen and Which Contains in One Volume 'Holmes Cooking' by John Farrell & 'Baker Street Meals and Menus' by Sean M. Wright. We have graciously been granted permission to share the recipes from that volume that relate to The Three Garridebs and thank Mr. Wright for his kindness and generosity.
THE ADVENTURE OF THE THREE GARRIDEBS
Thursday, 26 June – Friday, 27 June 1902
"They degenerated greatly towards the end."
– Mr. Nathan Garrideb
This case, with its "element of comedy," seemed to lend itself to a backyard type of affair, so effective on weekends. We hope that your gathering will "greatly degenerate toward the end" into a warm glow that stays with you until your next soiree.
Killer Evans Kabobs
This dish can be made with a high-grade top round meat, or any tender steak cut 2 inches thick, or it may also use something as diverse as fish, chicken, liver, etc. The possibilities are endless. For this particular kabob you might want to use meat and fish together, after having been steeped for at least three hours in different marinades. Alternate with mushroom caps, cherry tomatoes, green pepper, hot peppers, and ripe olives. When kabobing delicate meats such as liver, which cooks quickly, wrap each morsel in bacon. A bacon wrapping over the fish is also tasty. Conversely, should the meat be one that requires a long cooking time, skewer the alternates (tomato, mushroom, etc.) separately and mingle meat and vegetables in serving. Brush with melted butter and barbeque (or broil), turning at given times to ensure browning evenly. Brush with melted butter several times while broiling.
Marinades are also important, more important that some people know. They not only flavor, but also tenderize, to a large extent, the meat or fish that is to be consumed. Try these two marinade recipes:
Waterloo Road Marinade
For Fish:
Beer, 1½ cups; Oil, ½ cup; Garlic, 1 clove; Lemon juice, 2 tablespoons; Sugar, 1 tablespoon; Salt, 1 teaspoon; Cloves, whole, 3
Combine beer, and salad oil, stirring in the oil slowly. Add the remaining ingredients and stir. Will marinate 5 lbs. of fish.
A more pungent variation for beef or pork:
Beer, 1½ cups; Salt, ½ teaspoon; Mustard, dry, 1 tablespoon; Ginger, ground, 1 teaspoon; Soy Sauce, 3 tablespoons; Hot pepper sauce, 1/8 teaspoon; Sugar, 2 tablespoons; Marmalade, 4 tablespoons; Garlic, minced, 2 cloves
Combine all ingredients. Stir well; allow meat at least 3 hours to steep, and 4 or 5 wouldn't hurt. Will marinate 4 lbs. of meat.
Garrideb Marinade ã la Benjamin
Wine, red, 2 cups; Liquid smoke, 3 tablespoons; Juice of 1 lemon; Garlic Salt, ½ teaspoon; Pepper, 1 tablespoon; Worcestershire sauce, 3 tablespoons
Combine all ingredients. Mix well and stir thoroughly. Will marinate 6 lbs. of beef.
Note: If broiling in the kitchen, save the marinade that collects and mix some flour with it for a savoury gravy.
For barbeques such as this, beer and ale are the only things to serve.

Invested as The Manor House Case in 1977 with the Baker Street Irregulars, Sean M. Wright also edited (with Michael P. Hodal) Enter the Lion: A Posthumous Memoir of Mycroft Holmes. An Emmy nominated writer for the TV quiz show Jeopardy!, Wright now spends his time writing and speaking for The New Evangelization by the Faithful on topics of Catholic history and traditions. For many years, Wright was the Director General of the southern California based The Plot Thickens Mystery Company. He is the 68th Garrideb.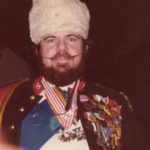 John Farrell, The Tiger of San Pedro, received his BSI investiture in 1981. In addition, he received not one investiture, but three into the Praed Street Irregulars, the Solar Pons Society. A theater, opera and classical music critic for the Los Angeles News Group, Farrell was one of the foremost Sherlockian scholars in Southern California. Farrell passed away on May 7, 2015.