Return of The Fairies (1997)
REBEKAH TAFT IS both a great neighbor and a good friend. Miss Taft was born in Colorado Springs in 1912, and the home she grew up in was on land adjacent to the headquarters of the American Numismatic Association, where the ANA's neighbor, the Colorado Springs Fine Arts Center, now is located. She has devoted her long life to social work and humanitarian effort, from Eastern Europe to East Harlem during the pre-Civil Rights era.
Miss Taft knows and cares about the city, and it is to her that I can always turn for a bit of anecdotal history. When she learned of my interest in Sherlock Holmes, she remarked, "Oh, I remember when Sir Arthur Conan Doyle came to Colorado Springs to lecture. He brought his family with him, and I was asked to be a companion for his daughter, Jean. We were both the same age. "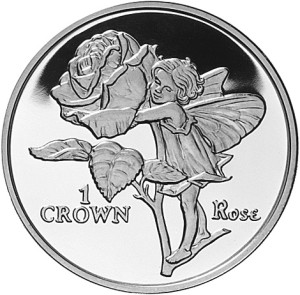 Rebekah Taft's recall was a clue few Sherlockians could resist. A visit to the newspaper files of the Pikes Peak Public Library revealed a microfilm copy of the morning edition of the Colorado Springs Gazette for May 7, 1923, with a front-page story headlined "CONAN DOYLE DUE HERE THIS MORNING. "
While the story's sub-head read "First Visits of Creator of 'Sherlock Holmes' to Pikes Peak Region, " Sherlockians of the day would have been very disappointed in the subject of his lecture. Although there were more Sherlockian adventures to come, Conan Doyle had become obsessed with spiritualism. Not only did he believe that he could communicate with dead members of his family, but he began to believe in the existence of fairies, as well. A year earlier, the creator of Sherlock Holmes had published a most incredulous book, The Coming of the Fairies!
His beliefs were reinforced when two young girls who lived in the village of Cottingley — Elsie Wright, age 16, and her cousin, Frances Griffiths, age 10 — claimed they had seen and talked to fairies playing in their garden. The elder of the two took photographs, and, although they appeared most unconvincing, Conan Doyle had hurried to the north of England and proclaimed the photographs to be genuine. Despite the resulting ridicule, Sir Arthur's belief in the authenticity of the pictures, as well as fairies, remained unshaken.
Other photographs, equally faked, were shown to complement Conan Doyle's lecture in Colorado Springs. The Gazette had introduced Sir Arthur Conan Doyle as an English novelist and exponent on "The Proofs of Immortality. " The paper promised that his talk would be illustrated with "startling spirit photographs!" One illustration would show the "ectoplasm of a supposedly dead girl manifesting itself from the mouth of a medium. "
A number of photographs were projected on the screen that evening. One showed a mourner standing beside the coffin of an aged women, while at hand was the spirit form of an old friend who had died earlier. Another was a picture of an Indian chief standing by a man. The photographer, said Conan Doyle, was informed by automatic writing that the chief would later appear in full regalia. The next picture was shown as "proof" that the chief kept his word.
Tales of the spirit world were the "flying saucer" stories of the 1920s. Thousands believed in it, sightings of ectoplasm during seances were as common as perceived extraterrestrial visits of our time. The theatre, according to a follow-up edition of the Gazette, was filled to capacity; all 600 seats were taken.
Conan Doyle's family had preceded him to the Springs. Lady Doyle had taken in some of the tourist attractions of the region and spent some time meeting with local spiritualists. At the Odd Fellows Hall on the night before Sir Arthur' s arrival, Lady Doyle reportedly received a spirit communication from a friend through a local Colorado Springs medium, Mrs. E. Gainor.
Despite the variety of photographic "evidence, " nothing could conceivably be described as "numismatic, " save for Conan Doyle's prima facie evidence to the existence of fairies. Coincident to his finding of fairies was the publication in England of a series of children's books entitled "Flower Fairies" by Cicely Mary Barker.
Barker was born in London in 1895. As a child in frail health and kept home from school, she taught herself to draw and later attended evening classes at the Croydon Art Society. Barker developed a distinctive style and was commercially engaged by the time she was 15. Using children who attended her sister' s kindergarten class as models, Barker began a series of fairies to appear on postcards. Then, in 1923, the first of her popular children's book was released. It is believed that it was her creations that were superimposed on the fairy photographs supplied to Conan Doyle and accepted by him as evidence of their existence. Ironically, when skeptics pointed to the "flat appearance" of fairies in the photographs, Sir Arthur explained that this was proof of their authenticity. Fairies, he said, were ethereal and could cast no shadows, and therefore in the light would look as they appeared on the photographs.
Of late, these same fairies have gained depth, albeit of a millimeter or less, but dimensional nevertheless. They now appear on a series of Isle of Man crowns and can be purchased directly from The Treasury, Isle of Man Government, Finance Division, Government Office, Douglas, Isle of Man, British Isles, IM1 3PX. A brochure, along with a list of all coins available, can be obtained for the asking. Prices range from face value (plus a handling charge) to premium costs for proof coins.
This article first appeared in the April 1997 issue of The Numismatist (pages 414-415), official publication of the American Numismatic Association, www.money.org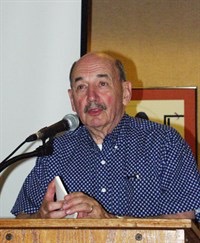 A prolific writer, Edward C. Rochette has authored several numismatic books, including The Romance of Coin Collecting, Medallic Portraits of John F. Kennedy and Making Money: Rogues and Rascals Who've Made Their Own. For many years, he wrote a weekly coin column nationally syndicated by the Los Angeles Times and a monthly column for COINage magazine, and penned his monthly column The Other Side of the Coin for the ANA's The Numismatist magazine.