Partial NBC Radio 12/25/1939 Broadcast of The Three Garridebs with Rathbone & Bruce
"No doubt you see the significance of this discovery of mine?"
– A Study In Scarlet (STUD)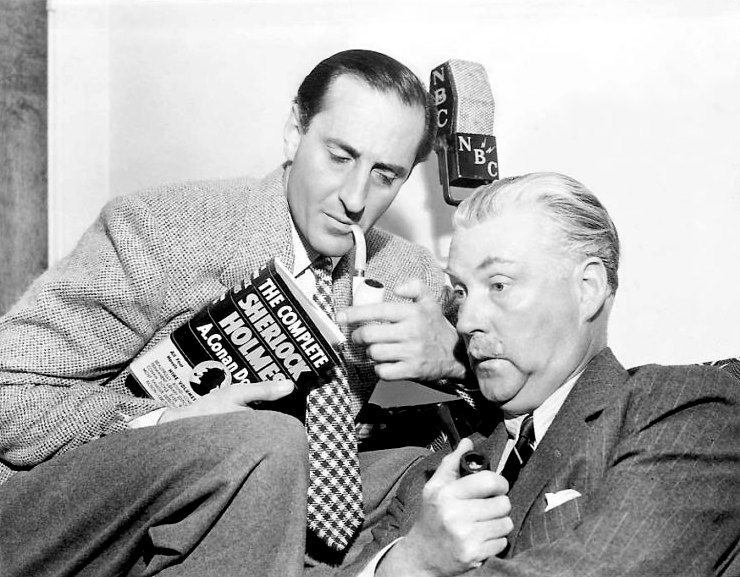 Radio versions of The Three Garridebs was one of the very first items we posted about back in September 2014. In that post, we referred that one of the first radio programs that Basil Rathbone and Nigel Bruce did as Holmes and Watson was The Three Garridebs. At the time, it was believed that the December 25, 1939 broadcast of that story was lost.
Recently, while scanning the site of the Old Time Radio Researchers Group, we came across a partial recording of this missing episode. Basically, we have the first half of the episode and it ends shortly after Holmes and Watson meet Nathan Garrideb and he discusses visiting Sotheby's and Christie's before the clip ends. You can listen to the clip below
This episode aired at 8:30PM on Monday, December 25, 1939 on the NBC Blue Radio Network and was sponsored by Bromo Quinine. Knox Manning was the announcer and Edith Meiser wrote the script. Music was arranged by Lou Coslowe and the show produced by Harold Kemp. Unfortunately, we do not who played the roles of Mrs. Watson, John Garrideb or Nathan Garrideb.
There are many other Sherlock Holmes radio programs, as well as other old radio programs, available for downloading and FREE at the OTRR Library. It's well worth checking out.