The Writer, the Check and the Men's Magazine
"… we must look upon you as a man of letters …"
– The Adventure of Wisteria Lodge (WIST)


Check Photos by Dr. George A. Vanderburgh
As the old radio show used to say, "I love a mystery."
And it would appear that we have a mystery here. Let's call it, "The Adventure of the Writer, the Check and the Men's Magazine."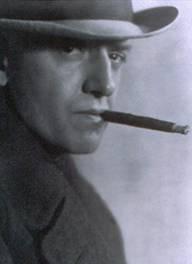 First, let me introduce you to Vincent Starrett. He was a popular writer during most of the first half of the last century. He had a broad range of interests, including mysteries, detective fiction, poetry and books. He was especially interested in Sherlock Holmes and had a hand in creating the Baker Street Irregulars, the oldest and largest literary society dedicated to the Baker Street detective. You can learn a lot more about him at my blog, Studies in Starrett.
Starrett started out as a newspaper reporter, and during his long career wrote for a broad range of publications from stately mainstream magazines like the Saturday Evening Post and the Atlantic to the first issue of Esquire, where he shared space with Ernest Hemingway, Dashiell Hammett, movie star Douglas Fairbanks Jr. and boxer Gene Tunney.
Starrett was also known to write for the pulps, those magazines you didn't put on the coffee table in the living room, but kept in the dark spaces of the closet lest your mother find out about them. Real Detective, Short Stories, College Humor, Wayside Tales and Mammoth Detective were just a few of his regular spots for fiction, essays and even ribald poetry.
So when Greg Ruby mentioned that he had seen a check from Argosy ("The Largest-Selling Fiction-Fact Magazine for Men") written to Starrett it was not a complete surprise. (The check belongs to George Vanderburgh and the story of how George acquired it is told here.)
At first, I though I knew what the check was about. Starrett had, over the space of a few decades, placed a couple of pieces in Argosy.
In the early decades of the century, Argosy had accepted a few of his mystery stories. But this was the 1950s, and Starrett had largely given up mystery and fiction writing for essays on books and history as it's described in books. I checked my shelves and found that in June 1957, Argosy ran an article by Starrett describing one of the most disastrous balloon rides in history, the 1863 flight of Le Géant. Constructed by the balloonist Nadar (a friend of Jules Verne, whose interest in ballooning would prove inspirational to Verne's writing), the outsized balloon was, like a overgrown toddler, too ungainly for its own good. The story of its doomed flights is well told by the Smithsonian's Air and Space Museum here.
Thinking that this was the reason for the check from Argosy, I was happy to supply Greg with a little story.
But then I looked at the check. And there, very clearly, it says the check for $500.00 (a princely sum in 1956) was for an article called "The Day Before Yesterday." Now here is a very curious thing: "The Day Before Yesterday" is an article that first ran sometime in the early decades of the 1900s and was collected for publication with other essays in Starrett's 1938 book, Persons from Porlock. It is a reflection on history in fiction and most often remembered for the evocative line: "The day before yesterday always has been a glamour day. The present is sordid and prosaic. Time colors history as it does a meerschaum pipe."
This inwardly looking piece is hardly the stuff of Argosy, which was more concerned with fast cars, fast women and adventuresome men.
So far as I can tell, "The Day Before Yesterday" did not appear in Argosy. I might be wrong about this, since I can find no reliable index of all Argosy articles. Still in 15 years of collecting Starrett, I can't recall once seeing the article and the magazine related to each other except through the check.
I might be wrong, and in fact would be delighted if that was true. It would mean there is one more issue of Argosy to hunt down, and one more item to potentially add to my collection.
And that, dear friends, is a mystery worth solving. Perhaps we should write a letter to the resident genius at 221B Baker Street?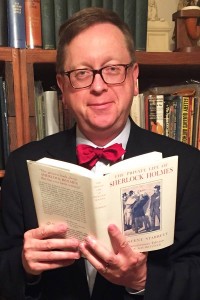 Ray Betzner, Associate Vice President for Communications at Temple University, has been involved in the Sherlock Holmes movement for 40 years, and has spoken at numerous Sherlockian society meetings and conferences. He is curator of the Studies in Starrett website and editor of the 75th anniversary edition of Starrett's cornerstone work, The Private Life of Sherlock Holmes.