Heritage To Auction A Decadrachm Of Syracuse At NYINC
"Syracusan – of the best period …"
– The Adventure of The Three Garridebs (3GAR)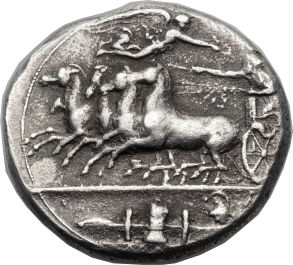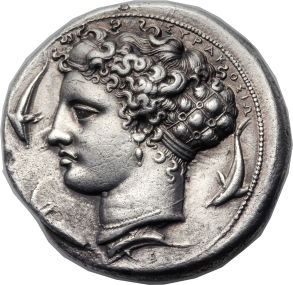 Heritage Auction's January 3 – 4, 2016 NYINC World Coins & Ancient Coins Signature Auction – New York #3044 – Lot 31005 – HA.com
Every member of The Fourth Garrideb receives a Garrideb Decadrachm with their lifetime membership certificate, an homage to the Baker Street Irregulars and their shillings.  For the Sherlockian with a spare $40,000 – $50,000, there is a chance to acquire a real Syracusan decadrachm that could be the very one that Nathan Garrideb was polishing when Holmes and Watson visited him in The Three Garridebs (see our earlier post).
The New York International Coin Convention (NYINC) will be taking place at the Waldorf Astoria in New York City the week prior to the 2016 BSI Weekend. Heritage Auctions will be conducting a World Coins & Ancient Coins Signature in conjunction with the NYINC On January 3-4. Below is Heritage's description of lot 31005.
Decadrachm of Kimon
SICILY. Syracuse. Time of Dionysius I (406-367 BC). AR decadrachm (35mm, 42.43 gm, 5h). Unsigned dies by Kimon, ca. 405-400 BC. Charioteer driving racing quadriga left in three-quarter view, third horse with head lowered; the charioteer holds reins and kentron (goad); Nike flying right above to crown charioteer with laurel wreath; in exergue, military arms, including aspis (shield), greaves, cuirass, and crested Phrygian helmet, all joined by horizontal spear, ΑΘΛΑ ("prizes") below / ΣΥΡΑΚΟΣΙΩ-Ν, head of Arethusa left, wearing pendant earring and pearl necklace, curly hair confined by ampyx and net sphendone, four dolphins around. Jongkees 12 (C/l). SNG ANS 360 (same dies). Gulbenkian 309 (same dies). Moderate obverse (chariot side) die rust, otherwise an impressive piece struck in living high relief. NGC Choice XF 4/5 – 4/5, Fine Style.
From the Northern California Collection. Ex Robert Schonwalter Collection (Triton V, New York, 15 January 2002), lot 1227. 

Syracuse had been striking its own coins for about a century when, circa 405 BC, came the stunning series of silver decadrachms by Kimon and Euainetos. These huge, impressive coins were struck in considerable numbers, probably to pay the Greek mercenary soldiers who flooded Sicily to fight the expanding power of Carthage. They stand at the pinnacle of Greek numismatic achievement and served as a paradigm for Hellenistic art in the ages to follow. Kimon's decadrachm design, as exemplified by this impressive piece, features a highly individualized and "ethnic" looking head of Arethusa, clearly modeled on a real-life Greco-Sicilian woman. Her hair is bound in an elaborate jeweled net and a wide hairband, or ampyx. On the obverse, Kimon's four-horse chariot races to the left at breakneck speed while the goddess Nike flies serenely above, reaching out with a laurel wreath to crown the victorious charioteer. Below this scene, in the exergue beneath the ground line, are arrayed the prize trophies – a military cuirass, greaves and a helmet, labeled ΑΘΛΑ ("athla" or prizes, from which the term athlete derives).
Estimate: $40,000 – $50,000.
To those bidding, good luck! If you happen to be the lucky winner of this lot, do NOT use a chamois leather like Nathan Garrideb was doing…..
 UPDATE 3/8/2016 – This lot sold for $51,700, which includes a 17.5% buyer's premium ($44,000 gaveled price plus $7,700 buyer's premium).