Sgt. Buddy Murnane's Sherlock Holmes Themed Challenge Coin
" … a promising detective …"
– The Adventure of The Golden Pince-Nez (GOLD)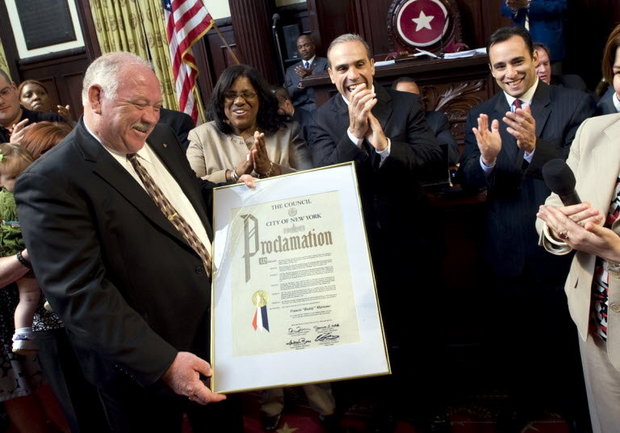 On March 15, 2015, Sergeant Francis "Buddy" Murnane passed away from an apparent heart attack. Murnane, a NYPD officer since 1973, was the New York Police Department's longest serving officer and had never taken a sick day during his career.  He was a month away from his 63rd birthday and mandatory retirement from the NYPD.
From Eddie D'Anna's obituary for Murnane in the March 16, 2015 Staten Island Advance:
Francis (Buddy) Murnane, an NYPD sergeant and Dongan Hills resident who went decades without calling out sick, has died.
Murnane, a beloved father and grandfather, was just weeks away from his 63rd birthday and the department's mandatory retirement age.
He was the department's longest-serving officer, first appointed in 1973, according to an NYPD spokesman.
In 2010, the City Council honored Murnane, who, at the time, had not called out sick to work during his 37-year career. That streak continued until his death.
"If you are the bad guy, the worst of the worst, for the last 37 years Buddy Murnane has been part of the team looking for you to bring you to justice," then-Councilman James Oddo said during the 2010 ceremony at City Hall in Lower Manhattan. "He has truly put community, city and country above all."
As a supervising sergeant in the NYPD's Major Case Squad, Murnane helped to close thousands of cases — from kidnappings to hijackings, to bank robberies and large commercial burglaries. He also served as the commander of a New York City Housing Authority (NYCHA) Police homicide unit that covered Staten Island, Brooklyn and Queens. 
He had earned dozens of awards, including the Staten Island Officer of the Year, the NYPD Combat Cross, the Medal of Exceptional Merit, the Commendation Medal, five Meritorious Police Medals and 14 Excellent Police Duty Medals, and had been cited by several police departments and prosecutors' offices in other states.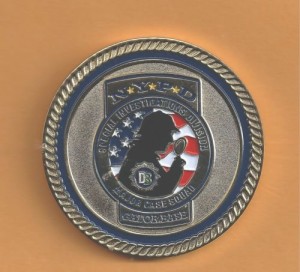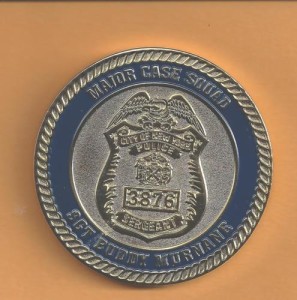 OBVERSE: N (star) Y (star) P (star) D / SPECIAL INVESTIGATIONS DIVISION / (silhouette of a right-facing Sherlock Holmes, wearing a deerstalker and holding a magnifying glass, upon a background of the U.S. flag, with the NYPD's Detective Bureau logo in the foreground) / MAJOR CASE SQUAD / GATOR BASE
REVERSE: MAJOR CASE SQUAD / (Sgt. Buddy Murnane's NYPD Badge) / SGT. BUDDY MURNANE
50mm, Round, Hardened Enamel with a shiny gold finish
On the day of Sgt. Murnane's funeral, the Staten Island Advance's John M. Annese offered up this commentary on Murnane:
It was about two years ago, and Buddy Murnane was working on one of the many bank robbery cases he cracked in his long career on the NYPD's Major Case Squad.
The investigation went as they often do — Buddy made sure that the crook's photo got into the hands of the media quickly and prominently, and within a few days, police had their suspect in custody.
Only this guy wasn't admitting anything.
Well, not until Buddy entered the room, anyway.
Buddy, it turned out, had arrested the guy the last time he robbed a bank, and when he saw the guy again, he said, in his no-nonsense way, look we both know you did this, so cut the crap.
And that was all it took to get the suspect to sing.
That may be one of my favorite behind-the-scenes anecdotes from Sgt. Francis "Buddy" Murnane, an NYPD legend who died Sunday, just a month before his 63rd birthday would have aged him out of the department.
Hundreds attended his funeral on Thursday at Colonial Funeral Home in New Dorp.
Buddy had his hand in solving some of the borough's — and the city's — strangest and most high-profile crimes over the years.
When a lovelorn handyman planted a series of fake bombs on Staten Island to try to frame the new father figure in a 10-year-old neighbor's life, the NYPD called on Buddy to lead the investigation.
In 2005, when 18-year-old Aliza Parsy was found murdered — by her half-brother, it turned out — and covered in a mattress and pillow in her Sea View home, Buddy worked the case.
He's lent his expertise to catch cop-killers. He's worked kidnappings, murders, burglary sprees and bank robberies, and trained thousands of other cops to do the same. And he wouldn't take a sick day.
He just loved police work that much, bringing an unjaded enthusiasm and compassion for the victims to the job.
"Truly a gumshoe, you know, like in the old days" former prosecutor Eric Nelson recalled.
Nelson worked with Buddy on the Alex Diaz case in 1993 — Diaz had strangled a mother and daughter in West Brighton, so Buddy and his partner, Det. Dominick Zarella, went to Chicago to track him down.
And despite all of that legwork, Buddy made sure Det. James Cummings got credit for the arrest, Nelson said.
On Sunday nights during football season, Buddy would open his Staten Island home to friends, co-workers, prosecutors, even the occasional reporter, to spend the night in his den, watching the game.
His friends had been itching to throw him a retirement party, and they set the date, on May 7, but in true Buddy fashion, he insisted he'd pay for the whole thing, Nelson said.
"That's how humble of a guy he was," Nelson said.
If the NYPD can be compared to the New York Yankees, Buddy would be its captain – like Derek Jeter or Thurman Munson – said Sgt. Ed Mullins, who heads the NYPD sergeants union.
"He might not have been a chief," Mullins said, "but he was definitely a leader."
UPDATE 6/4/2016 – A second Sherlockian-themed challenge coin was also issued to honor Sgt. Murnane. Similar design, but the second coin can also be used as a bottle opener. Read the details HERE.