Monetary & Numismatic Mentions: The Gloria Scott
'"Made all my money at the gold-fields."
– The Adventure of The Gloria Scott (GLOR)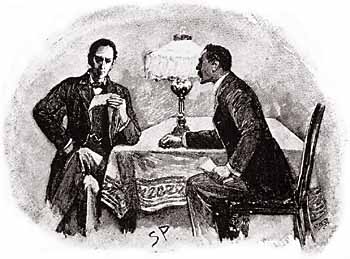 In this post, we peruse The Adventure of The Gloria Scott looking for mention of monetary transactions and numismatic items. As always, the page numbers [seen here in brackets] refer to the relevant pages in The Complete Sherlock Holmes published by Doubleday / Penguin Books.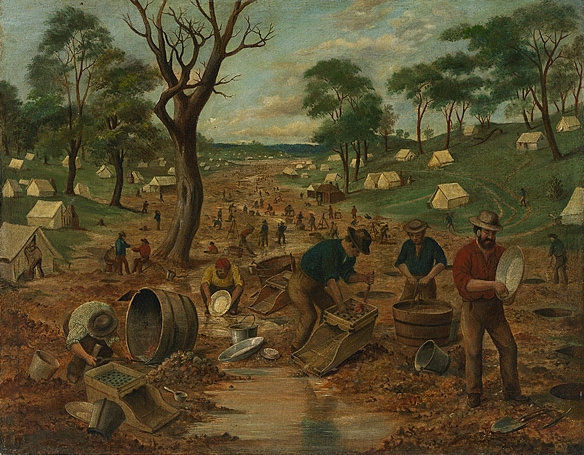 While Holmes is having a conversation with Trevor the Senior [375], he opines that Mr. Trevor has done much digging to which Trevor replies:
" 'Made all my money at the gold fields.'
Young Trevor tells Holmes that Hudson had been made a gardener and then a butler [378], causing ill will among the housekeepers.
The maids complained of his drunken habits and his vile language. The dad raised their wages all round to recompense them for the annoyance.
After Trevor the Senior's death, young Trevor shared with Holmes a letter that his father wrote of the details of the sinking of The Gloria Scott [381] and reveals his true name of Armitage. The letter goes on to state:
As Armitage it was that I entered a London banking-house, and as Armitage I was convicted of breaking my country's laws, and was sentenced to transportation. Do not think very harshly of me, laddie. It was a debt of honour, so called, which I had to pay, and I used money which was not my own to do it, in the certainty that I could replace it before there could be any possibility of its being missed. But the most dreadful ill-luck pursued me. The money which I had reckoned upon never came to hand, and a premature examination of accounts exposed my deficit. The case might have been dealt leniently with, but the laws were more harshly administered thirty years ago than now, and on my twenty-third birthday I found myself chained as a felon with thirty-seven other convicts in the 'tween-decks of the bark Gloria Scott, bound for Australia.
We learn of Jack Pendergast and his crime [382].
" ' "I'm Jack Prendergast," said he, "and by God! you'll learn to bless my name before you've done with me."
" 'I remembered hearing of his case, for it was one which had made an immense sensation throughout the country some time before my own arrest. He was a man of good family and of great ability, but of incurably vicious habits, who had by an ingenious system of fraud obtained huge sums of money from the leading London merchants.
" ' "Ha, ha! You remember my case!" said he proudly.
" ' "Very well, indeed."
" ' "Then maybe you remember something queer about it?"
" ' "What was that, then?"
" ' "I'd had nearly a quarter of a million, hadn't I?"
" ' "So it was said."
" ' "But none was recovered, eh?"
" ' "No."
" ' "Well, where d'ye suppose the balance is?" he asked.
" ' "I have no idea," said I.
" ' "Right between my finger and thumb," he cried. "By God! I've got more pounds to my name than you've hairs on your head. And if you've money, my son, and know how to handle it and spread it, you can do anything.
Prendergast goes on to mention that there is a plot to take over the ship and that he "was the leader, and his money was the motive power." [382]
In addition, Prendergast mentions a partner [382]:
Why, he's the chaplain of this ship–the chaplain, no less! He came aboard with a black coat, and his papers right, and money enough in his box to buy the thing right up from keel to main-truck. The crew are his, body and soul. He could buy 'em at so much a gross with a cash discount, and he did it before ever they signed on.
In the last paragraph, Holmes tells that Hudson and the neighbor Beddoes went missing [385] and offers this theory:
I think that it is most probable that Beddoes, pushed to desperation and believing himself to have been already betrayed, had revenged himself upon Hudson, and had fled from the country with as much money as he could lay his hands on.