Data! Data! Data! – The Gloria Scott
"'Data! Data! Data!' he cried impatiently. 'I can't make bricks without clay.'"
– The Adventures of The Copper Beeches (COPP)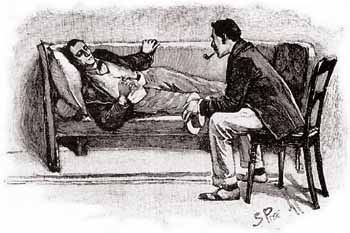 This column is composed of material (Data!) developed for a short course called Appreciating Sherlock Holmes that I teach twice a year in the Community Education Life Enrichment Program for a local community college.  It is composed of "points of information" that are common to many / most / all of the 60 Canonical stories.
The information here has been researched by me or borrowed / stolen from many efforts of other Sherlockians.
HERE GOES      This month's story The Adventure of The Gloria Scott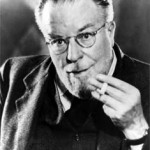 CHRISTOPHER MORLEY SAID . . .
"Squire Trevor, father of Holmes's college friend Victor Trevor, fainted when young Holmes (then a college student) remarked on the initial tattooed on his arm.  The mystery of Trevor's past is well told, but equally interesting is the glimpse of Holmes's youth."
DUMMIES SHORT SUMMARY (From Sherlock Holmes for Dummies by Steven Doyle & David Crowder)
"The normally secretive Sherlock suddenly opens up and tells Watson about his very first case, an adventure that took place during college."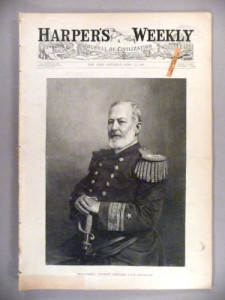 PUBLISHING HISTORY
This is the 19th of the 60 tales published
The Strand Magazine, in England, April 1893
Harper's Weekly, in the U.S. April 15, 1893
It is part of The Memoirs of Sherlock Holmes collection, published in book form, in 1894
The British illustrator was Sidney Paget. W. H. Hyde did the illustration in Harper's Weekly
HOW MANY WORDS?
According to C. E. Lauderback, 1960 – – found on SHERLOCKIAN.NET website of Chris Redmond
At 7,892 words GLOR has the 28th most words (#1 is VEIL – 4,499, #56 if NAVL – 12,701)
THE BEST OF SHERLOCK HOLMES (How do Sherlockians rate this story?)
The Gloria Scott falls in about the middle of the ratings.
1999 – The Baker Street Irregular members voted it 38th of the 56 short stories
1999 – Sherlock Holmes Society of London voted it 29th of the 56 short stories
CLASSIFYING THE CASE (From the Wandering Gipsies of Grimpen Mire of Decatur, Alabama)
This case is one of 7 classified as fear of physical harm or public scandal.
CHRONOLOGICALLY SPEAKING
Doyle was often very vague about stating WHEN the tale took place and included few contemporary references to help.  Whether this was done intentionally or unthinkingly, the dating of events in the Canon is a very popular pastime pursued by several of our "scholars" researching and justifying their results to no end.  We will again default to William Baring-Gould's dating of  Sunday, July 12 to September 22, 1874. This makes it the 1st of the 60 tales to take place. This means that Holmes is 20 and Watson (who isn't around yet) is 22.
WHAT ELSE HAPPENED IN YEAR?
It is always interesting to see what else in happening at the same time as the stories.
GREAT BRITAIN
Gladstone resigns his first ministry, Disraeli becomes prime minister.
Liverpool Street Station opens.
London School of Medicine for Women founded.
Formation of Women's Trade Union League.
Factory Act: 10-hour day; minimum age raised to 9 years (10 after 1875).
Lawn tennis invented.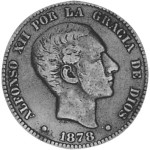 WORLD
Obligatory civil marriage established in Germany.
Spanish Bourbons restored in Alfonso XII.
Revolt of Herzegovinian peasants against Turkish rule, supported by Bosnia.
First zoological gardens in the U.S.A., opened in Philadelphia.
ART
Hardy, Far from the Madding Crowd, a novel.

2015 Austrian Die Fledermaus 5 Euro

Cezanne, Vase of Flowers, View of Auvers.
Manet joins Monet at Argenteuil; they paint in the open air.
Monet, An Impression, "impressionism" is named after it (see 1868).
Johann Strauss, Die Fledermaus.
Verdi, Requiem.
SCIENCE
Billroth discovers streptococci and staphylococci.
David Ferrier maps areas of monkey's brain responsible for different functions.
Andrew Hill of the U.S.A., lays the foundation of osteopathy.
Remington and Sons, gunsmiths, manufacture and sell Sholes and Gliddon typewriters (see 1873), which bear name Remington from 1876 onwards.
HOLMES AND WATSON – PERSONAL INFO
Holmes tells story to Watson as they share quarters at 221B sometime in the 1890'.  The actual case took place before Holmes and Watson met.   Holmes then had his own living quarters in London (NOT Baker Street).
DRAMATIS PERSONAE
Victor Trevor – classmate of Holmes at college
Senior Trevor – father of Victor.  A justice of the peace.
Beddoes, aka Evans – a fellow prisoner on the Gloria Scott
Jack Prendergast – a fellow prisoner on the Gloria Scott and leader of the mutiny.
Wilson, Prendergast's partner – He posed as a chaplain on the Gloria Scott.
James Armitage – Senior Trevor's real name.
Fordham – treated senior Trevor after his first stroke.
Hudson – a former seaman on the Gloria Scott.
"QUOTABLE SHERLOCK"
This took place before Watson was there to be Holmes' Boswell.  I have just one quote and it is from Holmes as he was relating the tale to Watson.
"And that recommendation, with its exaggerated estimate of my ability which with he prefaced it, was, if you will believe me, Watson, the very first thing which ever made me feel that a profession might be made out of what had up to that time been a merest hobby."
HOLMES' FEE
None.  Holmes was a student, and had not yet become a professional.  We gather he only earned eternal gratitude.
SHERLOCK ON THE BIG SCREEN & THE LITTLE SCREEN
There are only 2 "visual" performances of The Gloria Scott
1923 – Eille Norwood did it as one of his 47 movies based on the canon. The National Film and Television Archive at the British Film Institute has viewing copies of this film but it has never been released.
2001 – Sherlock Holmes in the 22nd Century (Animated TV series) This is a sci-fi pastiche loosely based on the canonical tale The Gloria Scott as one of its 27 episodes. You can watch this episode by clicking HERE.
SHERLOCK HOLMES IN DISGUISE
The Master of disguise used the deception of being disguised 14 times in 11 of the 60 stories.  This, however was before Holmes used them.
UNRECORDED CASES (That involved Holmes)
Watson would tease / torture his readers with "I know something you don't."  Oh my, how Sherlockians love this category.  I have in excess of over 150 examples in my collection.   Neither Watson no Holmes discussed any unrecorded cases in this tale.
FAINTING IN THE CANON (courtesy of Sherlockian Karen Murdock)
Fainting is extremely common in the Canon, appearing, in some form, in 37 of the 60 tales.  In 21 cases someone actually faints.  In 22 cases someone almost faints.  And in 5 cases someone pretends to faint.  In this month's story "Mr. (Victor) Trevor stood slowly up, fixed his large blue eyes upon me with a strange wild stare, and then pitched forward, with his face among the nutshells which strewed the cloth, in a dead faint."
ANNOTATED SHERLOCK
The 60 Sherlock Holmes stories used English as spoken in England from the 1880's until the 1910's.  Some words are foreign to us today and need a "contemporary translation."   This story contains many 19th century nautical terms lost to us in the 21st century.  For example:
The term "the long vacation" is what American schools refer to as Summer vacation
The term "the broads" refers to pieces of fresh water formed by the broadening out of a waterway or marsh
The term "the harness cask" refers to a cask or tub with a rimmed cover on board a ship to keep salt meats for current consumption
A "dog cart" is a sportsman's vehicle, a one-horse cart with 2 seats back-to-back, the rear seat being so constructed that it could be shut to form a box for carrying a dog.
The term "sentenced to transportation" in criminal law is the sending away of a convict to a remote place and held there as a measure of punishment. Australia was a common destination.
The term "the dibbs" (actually dibs) was a slang for money
The term "junk" was hard salted beef supplied to ships
A "barque" today, a bark – a three-master schooner with fore and main mast square-rigged
"main-truck"  The cap at the top of the mast.
"cut the painter"  The rope attached to the bow.
ODD STUFF
Not really "odd" is this brief comment by the late Sherlockian Steve Clarkson in 1997.  "Indirectly, this adventure helped point the way to Sherlock Holmes in his career as the greatest consulting detective of all time. And we owe it all to … dare I say it? … a bull terrier that bit Holmes on the ankle. Victor Trevor, the owner of the pugnacious pooch, being remorseful at the damage his pet had wrought, visited Holmes during his recuperation and the two became good friends. The friendship led to an invitation to Holmes to visit the Trevor homestead in The Broads and to meet Victor's father, a Justice of the Peace."  And that led to the idea of the WORLD'S GREATEST CONSULTING DETECTIVE."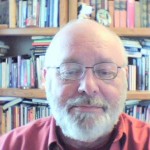 Frank Mentzel, aka Merridew of Abominable Memory, is the current Gasogene of the Six Napoleons of Baltimore. His Appreciating Sherlock Holmes classes for the Community Colleges of Baltimore County, MD  will starting later this month and last for four weeks. He has been known to dress up as Indiana Jones for Halloween.