Medal Honoring The Death of Sadi Carnot, Assassinated President of France
"… the tracking and arrest of Huret, the Boulevard assassin – an exploit which won for Holmes an autograph letter of thanks from the French President and the Order of the Legion of Honour."
– The Adventure of the Golden Pince-Nez (GOLD)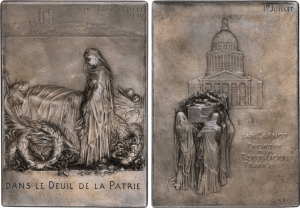 Marie François Sadi Carnot, President of the Third Republic of France, was stabbed and killed on June 24, 1894, while riding in a carriage returning home after delivering a speech at a banquet earlier that evening. Carnot's assassin was Sante Geronimo Caserio, who was later guillotined on August 16 for his crime.
Golden Pince-Nez takes places in November 1894, so it appears that Dr. Watson's reference to Huret, the Boulevard Assassin, is a veiled reference to Carnot's murder earlier in the year. Holmes would receive the letter of thanks and the Legion of Honour from Carnot's successor, Jean Casimir-Perier.
Carnot was honored with an elaborate funeral ceremony in the Panthéon on July 1, 1894. This event is commemorated on bronze and silver medals designed by Louis-Oscar Roty.
Noted New York numismatist and dealer in art medals, Paul J. Bosco, provided the following description of the medal:
58x81mm, silver, by Roty. Obverse: The slain president lies in state, attended by a mournful goddess (France); above, a landscape with basilica and date; at bottom, "The Country in Grief." Reverse: The coffin borne toward The Pantheon by females, their figures draped. Low relief, the reverse almost "misty." A masterwork of bas relief, yet Roty takes care to make an excellent, tiny portrait of Carnot.  The plaquette form had been little used since the Renaissance, when it was nearly always uniface, with mythological and religious themes predominating. Roty's two-sided rectangular medal was a great success with the public, as it should have been, simply because it was great art and captured the mood of the shocked and saddened nation. Further, the low, painterly relief, on a piece of the same canvass shape as most paintings, attracted attention from the wider arts community. Any doubt that Roty was in the first rank of French artists would not have survived the appearance of this piece; three years later his Sower design adorned French silver coins. If any medal / plaquette can be ruled obligatory in an Art-Nouveau collection, it is this one. As expected it is not scarce in bronze but quite scarce in silver. Illustrated piece is from the Anthony Terranova Collection.
I've always have been curious as to what work Holmes did in regards to the tracking and arrest of Huret. According to the contemporary account in the newspaper below, the capture of Carnot's assassin was fairly straightforward.