"He was clad only in a pink dressing-gown …"
– The Valley of Fear (VALL)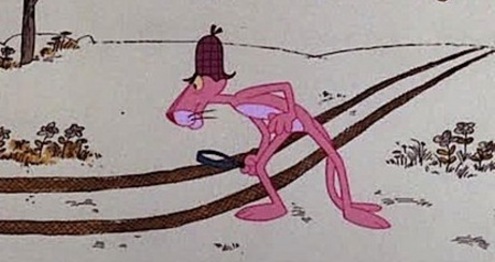 One of my fondest memories of my childhood was watching cartoons on Saturday morning. My personal favorites were the old Looney Tunes, Tom and Jerry, and the Pink Panther cartoons.
On June 29, 1976 the 90th Pink Panther cartoon was released in theaters that were showing United Artists movies. The short, Sherlock Pink, would eventually make it to the Saturday morning television shows. This was the last cartoon directed by Robert McKimson, before his death the following year. McKimson had also directed several of my favorite Looney Tunes cartoons as well.
In this cartoon short, Private Detective Pink tries to identify who stole his breakfast cake (which he ate himself in his sleep), instead finding another crook and chasing him through a surreal house.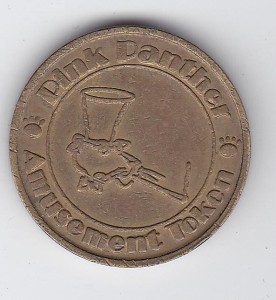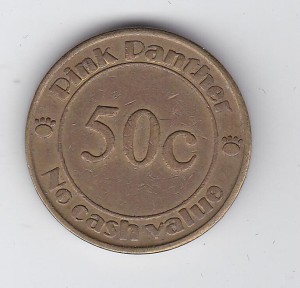 Video arcades were quite the rage in the early 1980's. Many of the video arcades required you to purchase tokens in order to play the video games. Pictured above is a brass video arcade token featuring the Pink Panther. Whilst arcades have faded out, many of the games can be played on sites like Gamulator. There's nothing like playing the games of our childhood that used these tokens to bring back a sense of nostalgia.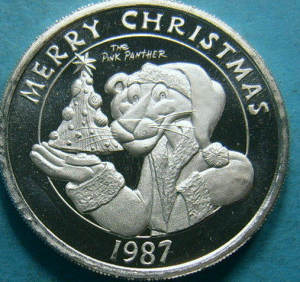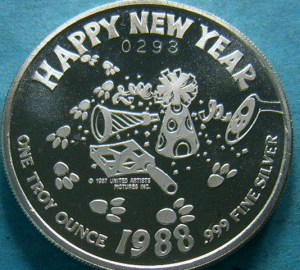 In the late 1980's, United Artists licensed the minting of one ounce silver rounds featuring the Pink Panther. Above, we have a round celebrating Christmas 1987 and the New Year 1988. Below, we have a round commemorating Valentine's Day 1988, with room to engrave an appropriate message to the recipient.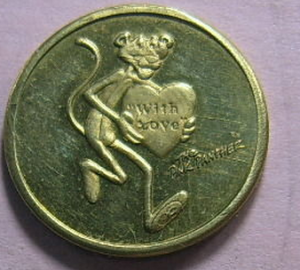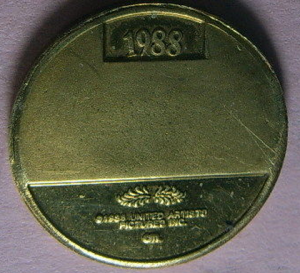 Lastly, during the 1996 Mardi Gras celebrations in New Orleans, the Krewe Of Caesar issued doubloons that featured the Pink Panther, among many other TV characters, on the obverse. In addition to the aluminum doubloons that would be tossed from the parade floats, Krewes often strike the designs on bronze and silver medals.