April HolmeWork Assignment: Gibraltar's 1994 Golden Sherlock Holmes Coins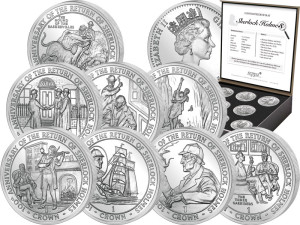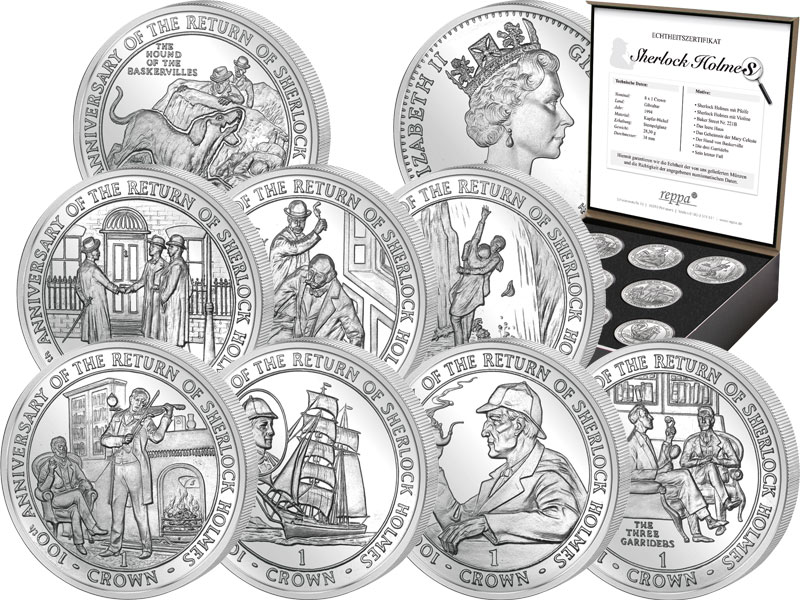 A few weeks back, we published Ed Rochette's 1995 syndicated column featuring the Pobjoy Mint releasing a series of coins commemorating the Return of Sherlock Holmes.
Twenty-four different coins were struck in 3 different metals with 8 different designs. We have photographs of the 8 cupro-nickel Crowns and the 8 .925 fine sterling silver coins.  So does Krause Publications, who publishes the Standard Catalog of World Coins.  The Pobjoy Mint also has pictures of those 16 coins.
You know what coins we don't have pictures of?  That's right – the gold ones.  Krause Publications doesn't have them. Neither does the Pobjoy Mint.
Mintages of 5,000 struck for each design in gold has been confirmed with the Pobjoy Mint.  Each coin carried 1/5 of an ounce of .999 fine gold, and were slightly smaller (22 millimeters) and weighed 6.22 grams.
So, does anybody out there have a picture of these 8 elusive gold coins?  Better yet, do any of you own any of the 8 gold coins?