Mark Twain Designs Reviewed for 2016 $1 and $5 Coins
"Are you not the author of a monograph…"
– The Adventure of The Resident Patient (RESI)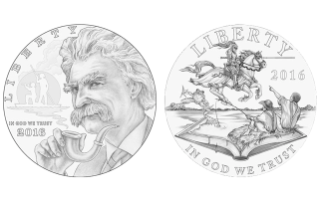 Designs for the 2016 Mark Twain silver dollar and the gold $5 half eagle were reviewed by the Citizens Coinage Advisory Committee (CCAC) at its March 5th meeting in Portland, Oregon during the American Numismatic Association's National Money Show.  Twain is known in Sherlockian circles for his 1902 short story parody of Sherlock Holmes, A Double Barrelled Detective Story.
Nearly 60 designs were reviewed by the 11 members of the CCAC –  31 proposed silver dollar designs, 17 obverse and 14 reverse, and 28 for the gold $5 coin, 16 obverse and 12 reverse.  For those desiring to see all 59 designs, follow these links for the silver dollar obverses, silver dollar reverses, gold coin obverses and gold coin reverses.
At the top of this post are the recommended designs for the silver dollar.  The second design, featuring symbols from many of Twain's stories, was originally submitted for consideration as an obverse of the coin.  CCAC has recommended that the legends be modified for a reverse design and to add Twain's signature where the date is shown.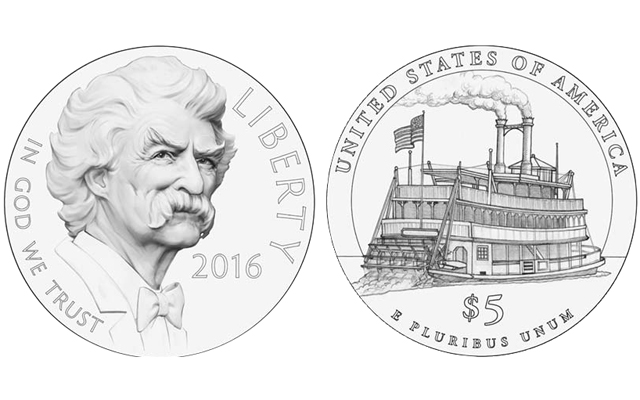 Above, the recommended designs for the gold $5 coin.
The CCAC recommendations are now forwarded to the Secretary of the Treasury, who is not bound by their decision and can choose any of other designs to go forward.
For those interested in reading Twain's A Double Barrelled Detective Story, click here.
Coin designs photos originally published in Coin World