A Second 2015 Coin for BSI Member Harry S. Truman?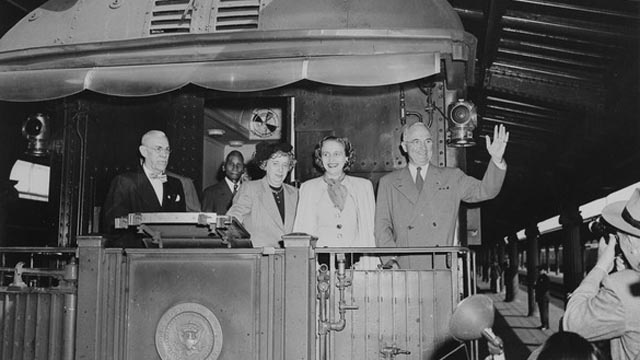 We recently discussed the upcoming 2015 Harry S. Truman Presidential dollar coin. Truman, an honorary member of the Baker Street Irregulars, might also appear on another coin in 2015, depending on what the final design of the Bess Truman First Spouse $10 coin.  Two of the six submitted reverse designs feature the image of Truman.
One design features a scene of the famous 1948 Whistle Stop train tour, with both of the Trumans on the back of the train.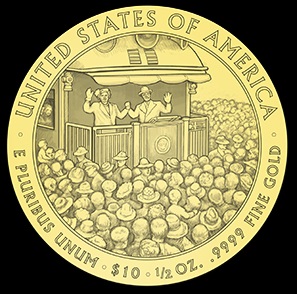 The other design features a Truman campaign pin in the outstretched hands of a supporter.
The First Spouse Gold Coins program is authorized by the Presidential $1 Coin Act of 2005 (Public Law 109-145). Half ounce coins of .9999 fine gold honoring the First Ladies are issued at the same time as the Presidential dollar coins of their husbands.
In addition to the gold coin, a 1 5/16″ bronze medal is issued.  These medals feature a modified reverse design lacking the wording around the rim of the coin. Since 2012, the bronze medals have not been released for individual sale but packaged in sets with their matching Presidential dollars or other First Spouse medals.
This will be the 35th coin in the First Spouse series, which is two higher than Truman's Presidential dollar. Presidents Tyler and Wilson each had two First Ladies during their administrations.
If one of these two reverse designs are chosen as the final design, we will update in a future post.
UPDATE: The U.S. Mint released the designs of the 2015 First Spouse coins on March 16, 2015. Neither of the two reverse designs mentioned in this post were chosen as the final design.
CoinWeek.net originally reported all of the proposed designs for this coin.