Radio Broadcast of the Three Garridebs – May 9, 1949
In a previous post, we discussed the various radio broadcasts of The Three Garridebs.  We are pleased to present this recording of the May 9, 1949 Mutual Broadcasting System version of 3GAR.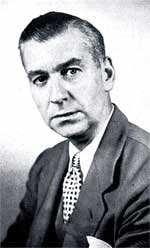 Holmes is played by John Stanley and George Stelton plays the role of Dr. Watson.  Later in the year, both would be replaced with new actors and the series would move from Mutual to ABC Radio.  This episode was written by Howard Merrill and produced and directed by Basil Lochran.   Music was done by Alfred Berman.  Sy Harris served as the announcer.
The 1948-1949 season of broadcasts were sponsored by Clipper Craft Suits.
I find this to be an interesting dramatization as Dr. Watson starts the story by telling of the murder of who we would later discover is the forger, Rodger Prescott (or Presbury, if you read this post).