The Newspapers 2019 from the Sherlockians of Baltimore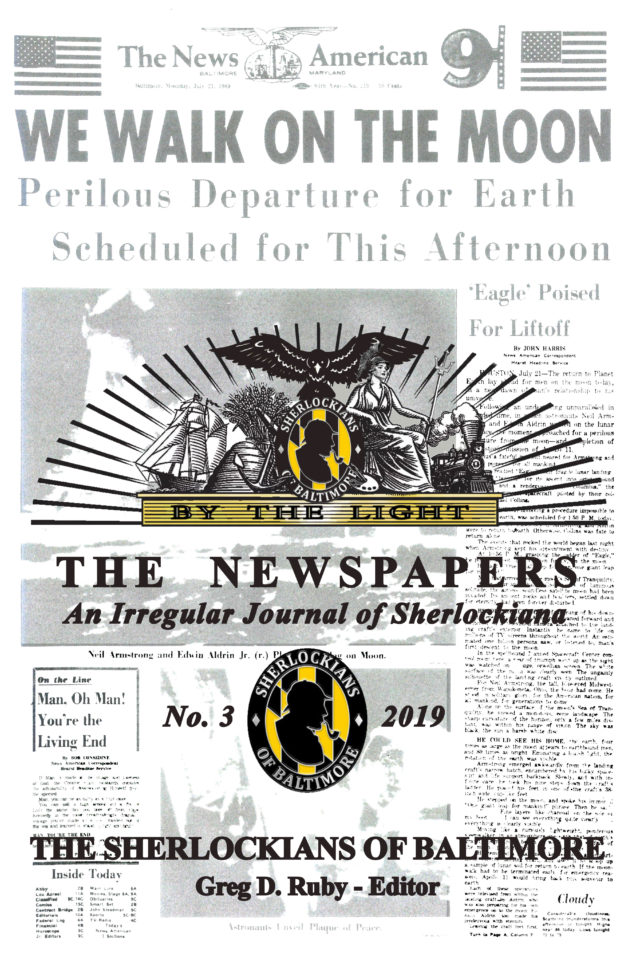 The Sherlockians of Baltimore are proud to announce the publication of the third volume of their annual journal The Newspapers.
This year's front cover features a reproduction of the Baltimore News-American of July 21, 1969 with headlines announcing the first man walking on the moon.
In honor of the fiftieth anniversary of the Moon landing, William A. Walsh writes about the naming of Sherlock Crater on the Moon in Harrison Schmitt: Bringing Holmes to the Moon. Schmitt was part of Apollo 17, the last manned mission to the Moon.
Baltimore's Edgar Allan Poe is honored in this volume with an caricature by noted illustrator Frank Cho, and Beth Austin's A Long Evening with Poe.
Famed member of the Baker Street Irregulars and the author of the Nero Wolfe stories, Rex Stout, is the topic of Ira Brad Matetsky's Rex Stout at the BSI Dinner.
James C. O'Leary has Discovered: THE Cardboard Box and shares insights from that story.
The founder of the Baker Street Irregular, Christopher Morley, had theorized that Sherlock Holmes was a student at Johns Hopkins University, shortly after it's opening. Carla K. Coupe builds upon that in her pastiche Overrun by Oysters.
The Arthur Conan Doyle story of Sweethearts is reprinted in this volume, along with the original illustrations by Lee Woodward Ziegler, a native of Baltimore.
Mike McSwiggin recounts the Baltimore Orioles winning the 1983 World Series while using the deductive reasoning methods of Holmes to solve a mystery with his grandfather in 10/83.
William Gillette's 1930 Farewell to the Baltimore Stage by Greg Ruby discusses the noted actor's visit to Poe's gravesite and the hoopla leading up to his final performances at Ford's Theatre.
Other contributions in this volume include:
William Hyder – An Uneasy Partnership – Holmes and the Police
James Arva – Sherlock Holmes on the Radio
Andrew L. Solberg – A Toast to Christioher Morley
Les Moskowitz – Reflections on Stamford
Paul S. Churchill – A Toast to Dr. Mortimer
Ralph Reppert – Gone to the Bowwows
Ross E. Davies – A Toast to Mycroft Holmes
Jaime N. Mahoney – "Knowledge of Sensational Literature – Immense" [STUD]: Sherlock Holmes as a Novelist
James H. Bready – The Adventure of the Baltimore Exhibit (with illustrations by cartoonist John Stees)
Monica M. Schmidt – On Sherlockian Friendship
Karen Wilson – "Sweet Violet"
Vincent W. Wright – The LAST Quiet Talk
Charles H. Prepolec – My "Handy Guide to the Turf" – A Toast to John H. Watson
Mary Stojak – The Adventure of the Dead Swimmer
Carolyn Wells (annotated by Bill Peschel) – The Annotated Adventure of the Mona Lisa
Dr. Daniel J. Benny – The Metropolitan Police / Scotland Yard
Over 180 pages of material by 21 contributors.
Price: $20, plus $3 shipping (if needed)
Payments by Paypal's Friends & Family option to [email protected]
Please input shipping address into notes when setting up payment or send email to above email address
Checks (payable to Greg D. Ruby) can be mailed to:
Sherlockians of Baltimore
2400 Boston Street, Suite 102
Baltimore, MD 21224