"My dear Gregory…."
– The Adventure of Silver Blaze (SILV)
From time to time, we will feature a post here regarding other fictional detectives, such as Max Carrados. Today, we feature Gregory Hood, a San Francisco based antiquities importer and amateur detective. On June 3, 1946 the Mutual Broadcasting System premiered the series of The Casebook of Gregory Hood, a summer replacement series for The New Adventures of Sherlock Holmes. The first case was The Three Silver Pesos, taking the name from items in the pockets of a murder victim.
Hood, in the first series of shows, was portrayed by Gale Gordon. Many of you, including your editor, may remember Gordon as the co-star of Lucille Ball in her last three television series. The series was created and written by Anthony Boucher and Denis Green, both writers for the Holmes radio series. Like the New Adventures it replaced, the series was sponsored by Petri Wine and Harry Bartell once agained served as the announcer.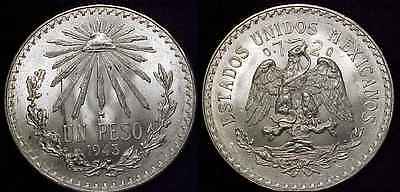 The Mexican peso illustrated above might have been one of the three silver pesos in the dead man's pockets from the first Gregory Hood case. This design was used between 1920 and 1945, featuring the Mexico national seal on the obverse and a liberty cap within a three-quarters wreath on the reverse. The coin was .720 fine silver and weighed 0.3856 oz. ASW.
Hopefully, later this year, we will have some additional posts on Nero Wolfe and Agatha Christie.