Norman M. Davis – Sherlockian and Numismatist
"The writer of this note …"
– The Adventure of Wisteria Lodge (WIST)

We recently reprinted Norman M. Davis's article, Here Are Your Wages, from the June 1971 issue of The Baker Street Journal. In addition to his investiture in the BSI, Davis was a member of the Sherlock Holmes Society of London, the Red Circle of Washington, DC, the Six Napoleons of Baltimore and Chicago's Hugo's Companions.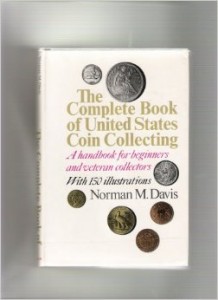 In addition to being a Sherlockian, Davis was an accomplished and prolific numismatic author.  I remember seeing his byline quite often in the late 1970's and the 1980's, mostly in Coins magazine. A member of the American Numismatic Association and the Numismatic Literary Guild, he wrote the syndicated The Coin Box column for over 20 years. His best known work was The Complete Book of United States Coin Collecting, which had two editions printed in 1971 and 1976.
Here is the obituary of Davis, prepared by Alfred A. Levin, that was published in the Summer 2004 issue of The Baker Street Journal (Volume 54, Number 2, Page 63):
Norman M. Davis
("The Grosvenor Square Furniture Van")
Norman M. Davis died of cancer on 7 April 2004. He was a government employee in Washington and Chicago and a freelance writer. He belonged to many Sherlockian societies, served some as an officer, and received his investiture in 1972. Among his many awards were his selection as the 1992 Illinois Sherlockian of the Year, the "Most Notable Companion" (Hugo's Companions, 1980), and the Horace Harker Award (Hugo's Companions, 1987).
Norman wrote many Sherlockian papers and edited Pun My Word, The South Downs Journal, and The Grimpen Mire Gazette. He was the author of Amusing Holmes!, a collection of the "puniest" writings ever done about Sherlock Holmes. Just before he became ill, he and his wife, Linda Crane, ASH, were collaborating on a book of humorous Sherlockian poetry. Norman also had a passion for poetry; his work was published in many countries. He was working on a handbook for writing and publishing poetry at the time of his death. An avid coin collector, he also wrote two editions of The Complete Guide to United States Coin Collecting and wrote a syndicated coin column for several years. In the last year or so he was producing manuscripts for children's books.
The Bangor (Maine) Daily News published this obituary of Davis:
CARIBOU – Norman M. Davis, 67, died April 7, 2004 at his Caribou residence with his wife at his side, after a brief illness. He was born Oct. 13, 1936, in Philadelphia, Pa., and lived in and around Washington D.C. and Chicago before moving to Caribou in June of 2001. He was the beloved husband of Linda Crane and an accomplished author of many articles and books and was an internationally published poet, with recognition in Who's Who in America for his poetry. He was for 13 years in the recovery community and served as an officer of the Unitarian Universalist Congregation in Caribou. Among his many accomplishments was a 30-year membership in the Baker Street Irregulars, the American-based Invitational International Society for Sherlock Holmes hobbyists. He was a well-known figure at local and national events over the years. His newspaper columns on numismatics were syndicated nationwide and his columns on the environment addressed many important issues. He had always been a champion of the abused abandoned, living life generously and compassionately, but with a sense of humor that never quit. He is survived by his wife of Caribou. A memorial celebration will be held 2 p.m. Sunday, April 18, 2004, at the Unitarian Universalist Church, Caribou, with the Rev. Maury Landry, Pastor officiating. A reception will follow the service in the church hall. Norm's many dear friends will miss him greatly, and true to form Norm asked that rather than sending flowers, contributions may be made in his memory to his two favorite local charities, The Battered Women's Project, 421 Main St., Presque Isle, ME 04769 or the Central Aroostook Humane Society, 25 Cross St., Presque Isle, ME 04769.