"…These are the documents in the extraordinary case of the Gloria Scott, and this is the message which struck Justice of the Peace Trevor dead with horror when he read it."
– The Adventure of The Gloria Scott (GLOR)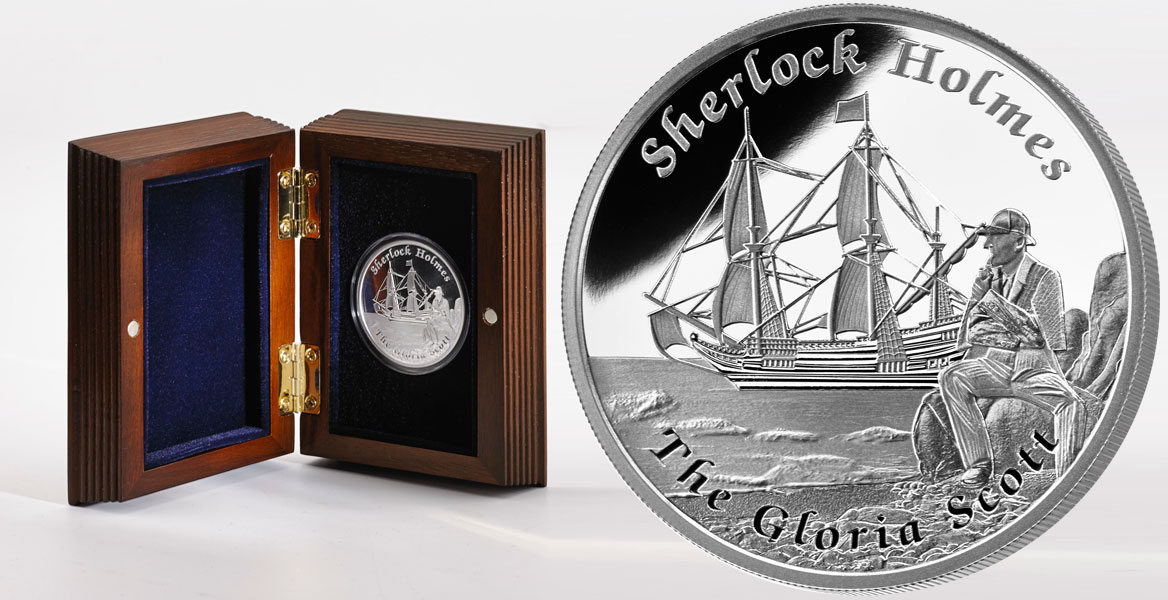 The south pacific island of Tuvalu has chosen the ship Gloria Scott and detective Sherlock Holmes as one of its 2014 subjects of its Famous Ships That Never Sailed dollar coin series.  Other ships featured have been Peter Pan's The Jolly Roger, The Flying Dutchman, Pequad from Moby Dick and Dracula's The Demeter.
GLOR is another unusual story of the Canon, as this adventure predates Holmes and Watson and is told mainly by Holmes.  This is the earliest case in the Holmes timeline, chronologically.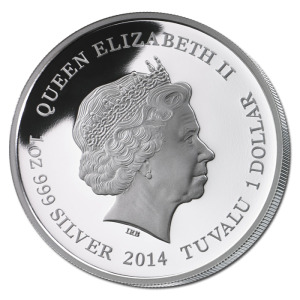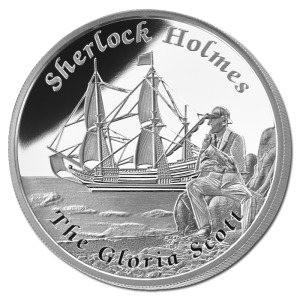 OBVERSE:  QUEEN ELIZABETH II / (right facing bust of Queen Elizabeth II by Ian Rank-Broadley FRBS) / 1 OZ 999 SILVER 2014 TUVALU 1 DOLLAR
REVERSE: Sherlock Holmes / (Sherlock Holmes, sitting on a rock and facing left, in the foreground; the ship Gloria Scott in full sail, sailing left past a cluster of small islands) / The Gloria Scott.
40.6 mm, Round, .999 Fine Silver, 31.1 grams, Reeded Edge, Proof Finish
Mintage is limited to 3,000 pieces and comes with a Certificate of Authenticity and a wooden presentation case. These coins were made by the Perth Mint. The coins were available for purchase at their website, but have sold out and can be found on the secondary market on sites such as eBay,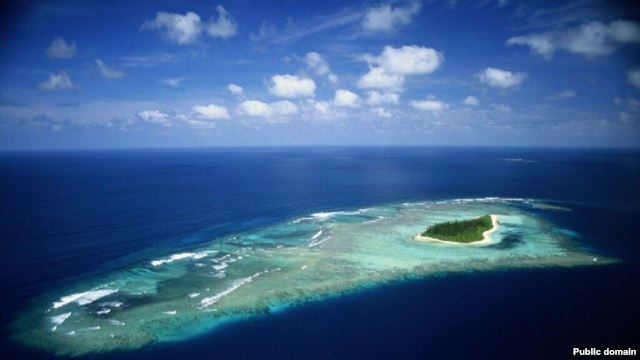 Tuvalu is a Polynesian island nation, located midway between Australia and Hawaii, in the Pacific Ocean. Formerly known as the Elice Islands, it consists of 3 reef islands and 6 atolls, spread out over 900,000 km of ocean. It is the 4th smallest country in the world with just 10 square miles of land mass and with a population just under 11,000 inhabitants, it is the 3rd smallest population of any country.
Coin images from the Perth Mint