"I trust that age doth not wither nor custom stale my infinite variety."
– The Adventure of The Empty House (EMPT)
May 22, 2014 marked the 155th birthday of Sir Arthur Conan Doyle.  The Prague Mint, located in the Czech Republic decided to honor this event by striking a silver commemorative medal in two different finishes. Sculptor Ivan Rehak came up with a quite striking design for the medal.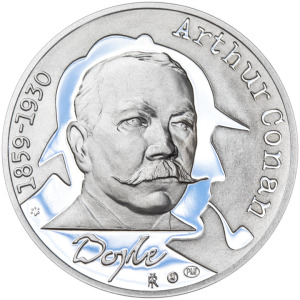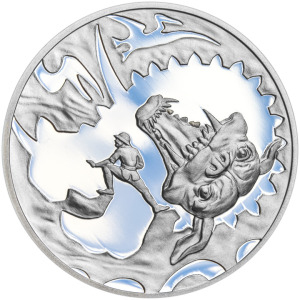 OBVERSE: 1859 – 1930 Arthur Conan / (three quarter bust of Sir Arthur Conan Doyle superimposed over a right facing silhouette bust of Sherlock Holmes with a pipe) / Doyle
REVERSE:  (images of Sherlock Holmes and the snarling head of a hound superimposed upon a left facing silhouette of a prehistoric Triceratops, with silhouettes of flying pterosaurs above and of a snake or serpent below)
37 mm, Round .999 Silver, 31.1 grams
Proof Finish – 282 specimens struck / Patina Finish – 98 specimens struck
The medals come in a presentation case and also have a certificate of authenticity.  The medals can be ordered at this website.
While I have described the character on the reverse of this medal as Sherlock Holmes, per the Prague Mint's website, it looks more to me as Professor Challenger (sans beard) of The Lost World fame.  I disagree with their description – it appears to me to be a pith hat being worn instead of a deerstalker and I just cannot picture Holmes rolling up his coat sleeves.  I can picture Professor Challenger in that setting, however.
 Medal images from the Prague Mint