"No living man could tell a Prescott from a Bank of England, and if I hadn't put him out he would have flooded London with them."
– The Adventure of The Three Garridebs (3GAR)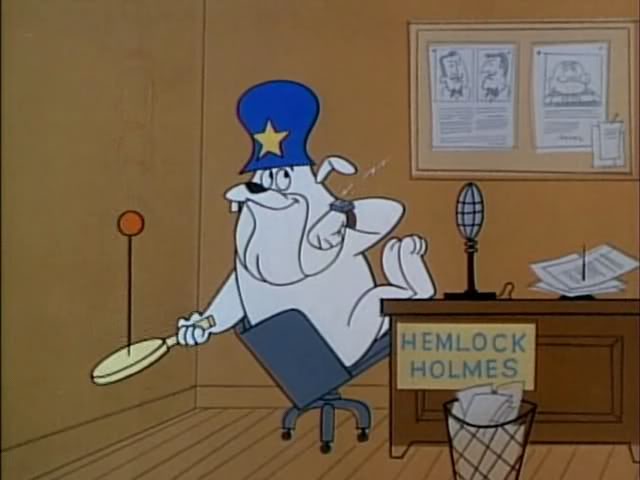 During the 1961 – 1962 television season, United Production Artists (UPA) created 130 episodes of The Dick Tracy Show for syndication. Each of these 5 minute episodes would start with Tracy in his office getting instruction over the intercom and then Tracy calling one of his subordinates to investigate the case. One of these subordinates was Hemlock Holmes.
The character of Hemlock Holmes was a police bulldog, voiced by Jerry Hausner. Holmes is backed up by the police squad of The Retouchables. Hemlock Holmes sounds like an imitation of the actor Cary Grant, while The Retouchables were obviously named after The Untouchables, but behaved like the earlier Keystone Kops.
If you click on the picture above, a new window will open and show the Funny Money episode of The Dick Tracy Show. The story was directed by Clyde Geronimi and written by Homer Brightman. In this episode, the villains Mumbles and Stooge Viller teamed up to steal $50,000 from the Pickwick Theater. Be sure to catch the spoiler at the end of the episode.