"… those bundles on the table are two thousand of Prescott's notes …"
– The Adventure of the Three Garridebs (3GAR)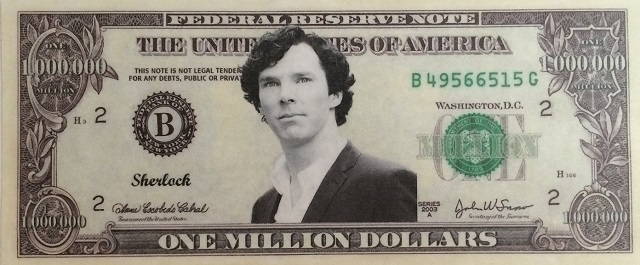 For the past two years, there have been appearances of fantasy $1,000,000 bank notes (also referred to as bookmarks) for sale over the internet. These bills are a reproduction of a Series 2003A $1 Federal Reserve Note and have been modified changing the denominations, the portrait and replacing the left serial number with a phrase or expression. We have been able to identify five Sherlockian-themed notes that were sold by "Thanks a Million" or TAMS for short.
The first note is pictured at the top of this post and features a black and white picture of Benedict Cumberbatch and has the phrase Sherlock. This is the only note of the five to picture a real person, as the remaining notes feature the Statue of Liberty. Cumberbatch stars as Sherlock Holmes in the BBC series Sherlock.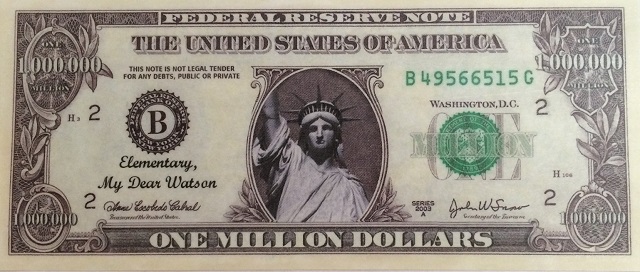 The second note has the phrase Elementary, My Dear Watson.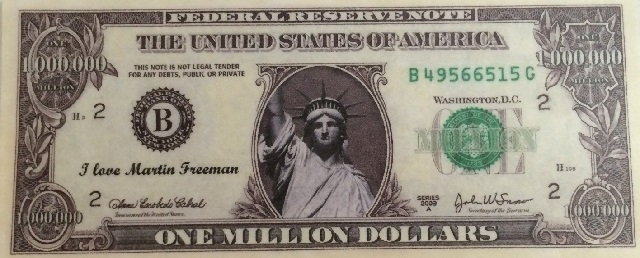 The third note makes reference to Cumberbatch's Sherlock costar, Martin Freeman, who plays John Watson. The phrase on this note reads as I love Martin Freeman.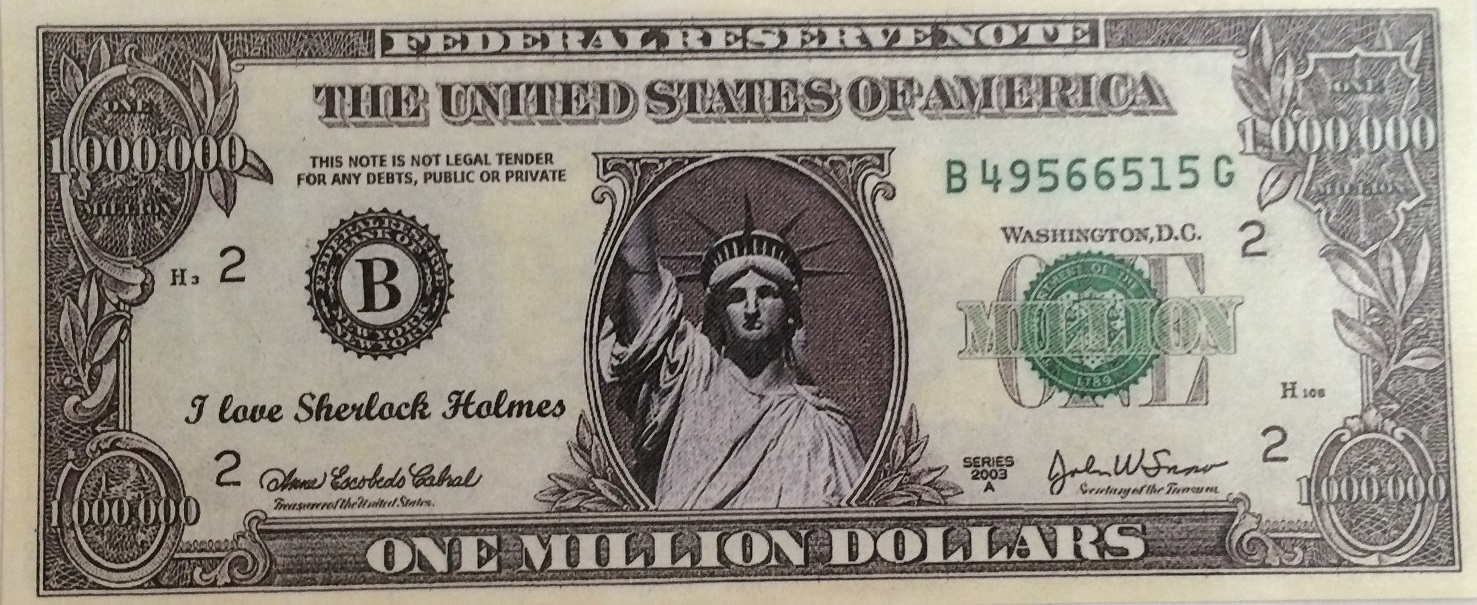 Our fourth note has the phrase I love Sherlock Holmes.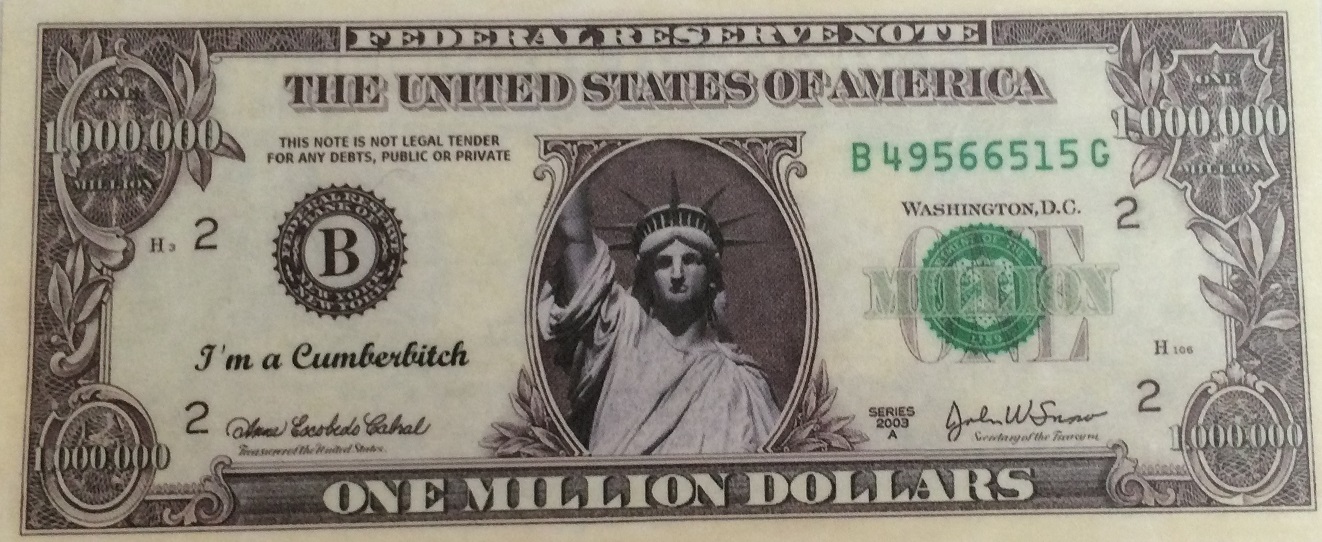 Our fifth and last note has the phrase I'm a Cumberbitch, a term used primarily by some female fans of Cumberbatch.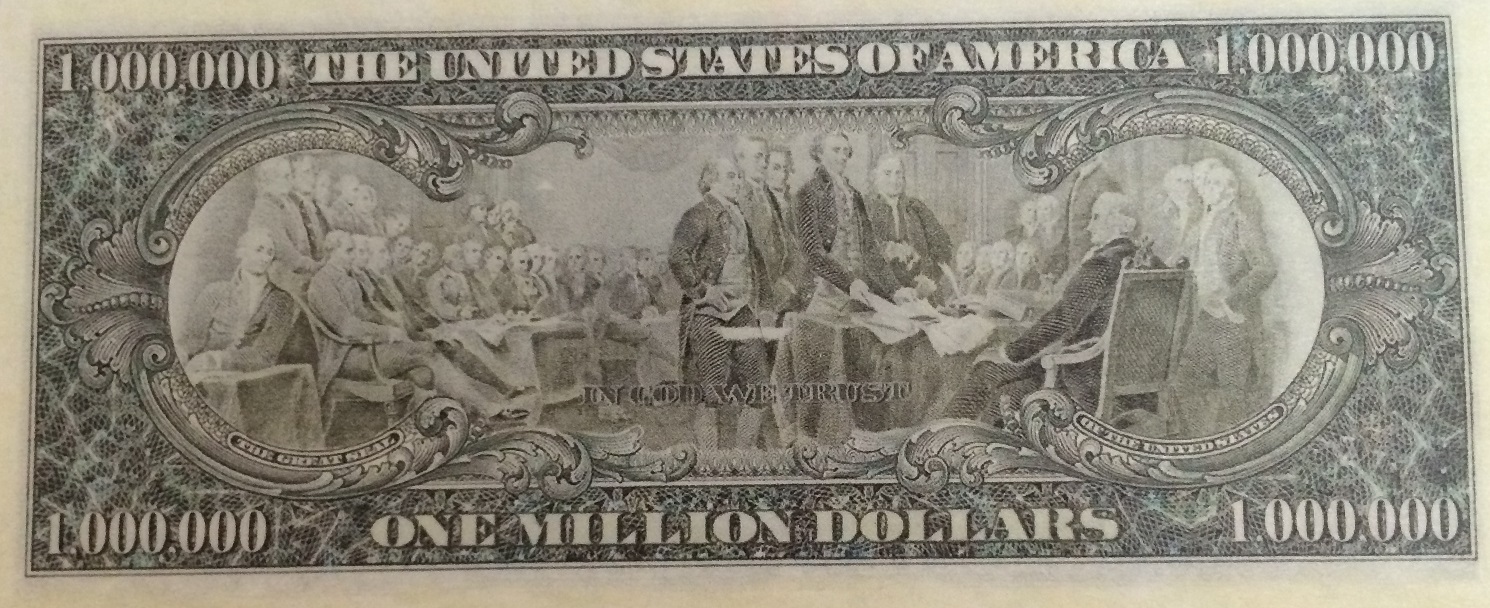 The back of all five banknote is a copy of a $1 Federal Reserve Note, having the denomination modified and inserting the Declaration of Independence signing vignette from the modern $2 Federal Reserve Notes.
These laminated notes are the exact same size as the other Federal Reserve Bank notes that you carry today in your wallet or purse. Since the United States has never issued a one million dollar note, they are not considered as counterfeits.
Over the last two years, the notes were available for a time on eBay. They then were offered on a Tumblr site for a while and then were for sale on Etsy, which is the last site I saw them for sale in April. All sites had over 100 different notes for sale, in addition to the five notes we have discussed here. The notes shown here were never priced higher than $4 for purchase, which included shipping. It will be interesting to see if these pop up again in the near future at another site.