"… having in tow the derelict brigantine Marie Celeste "
– J. Habakuk Jephson's Statement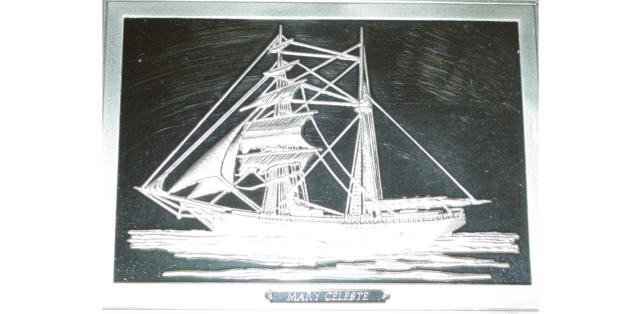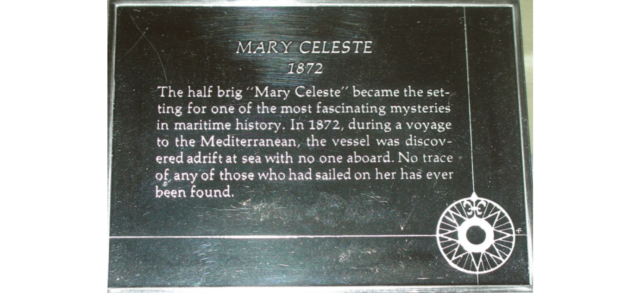 Between 1973 and 1976, the Franklin Mint issued a 50 ingot set featuring the Greatest Sailing Ships of History. There were actually three different sets available for purchase – a large sterling silver set, and two sets of mini-ingots in sterling silver and 24 karat gold. All sets would come with a wooden display case, a commemorative and the all important Certificate of Authenticity. Naturally, one of the 50 ships is the Mary Celeste.
OBVERSE: (the ship Mary Celeste in full sail) / MARY CELESTE
REVERSE: MARY CELESTE / 1872 /  The half brig "Mary Celeste" became the set- / ting for one of the most fascinating mysteries / in maritime history. In 1872, during a voyage / to the Mediterranean, the vessel was discov- / ered adrift at sea with no one aboard. No trace / of any of those who had sailed on her has ever / been found.
Rectangular, 63.5 mm x 44.45 mm, 1500 grains Sterling Silver
OBVERSE: (the ship Mary Celeste in full sail)
REVERSE: MARY CELESTE
Rectangular, 19 mm x 12.7 mm, 24 karat Gold
Rectangular, 19 mm x 12.7 mm, Sterling Silver
mini-ingots not displayed
The large silver ingot was issued at a price of $25 each and 4,386 ingots were made. The gold mini-ingot had an issue price of $80 and only 109 ingots were issued. At an issue price $3, the silver mini-ingot was the most popular with 18,933 ingots made. Considering how poorly Franklin mint items have done in the secondary market and the rise in bullion prices in the late 1970s and early 1980s, it is likely that many of these ingots have been melted