"… a chivalrous gentleman …"
– The Adventure of The Illustrious Client (ILLU)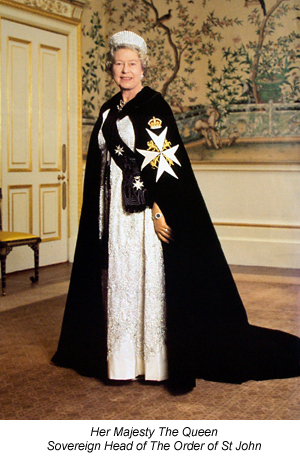 If you happened to be reading The London Gazette on August 5, 2016, there was a notice of new appointments to the Order of St.John. Congratulations to the 36th Garrideb, Michael Quigley SBStJ, on his appointment as a Serving Brother of the Order of St. John, more formally known as the Most Venerable Order of the Hospital of Saint John of Jerusalem.
Quigley now shares a connection with Arthur Conan Doyle, who was a Knight of Grace of the Order of St. John or KStJ. Doyle received his honor in 1903. There are six grades of the Order – Bailiff/Dame Grand Cross, Knights/Dames of Justice or Grace, Commander/Chaplain, Officer, Serving Brother/Sister, and Esquire.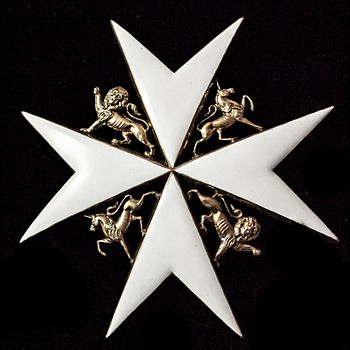 As is the case with most Orders, there is some bling associated with honor. The badge, consisting of an eight-pointed Maltese Cross (embellished in the four principal angles alternately with two lions passant guardant and two unicorns passant).
For Sir Arthur, his KStJ badge was enamel, with the backing and embellishments in silver. The SBStJ badge for Quigley is all silver. The KStJ badge is 57.2 millimeters in diameter, while the SBStJ badge is 44.4 millimeters in diameter. There is a half inch difference in size between the two badges.
Doyle would have worn his badge on a 16.5mm wide ribbon around his neck. Quigley will wear his badge on a 38 millimeters straight ribbon suspended from a bar on his left breast.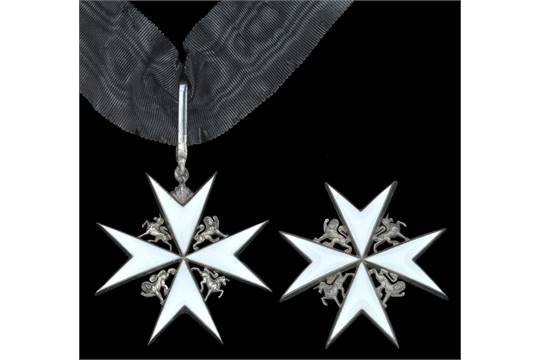 The Order of St. John of Jerusalem, Knight of Grace set of insignia with neck badge of silver and enamel, with the breast star of silver and enamel,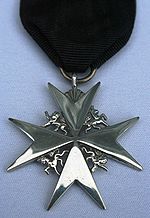 Pictured to the left is the silver badge for Serving Brothers of the Order of St. John of Jerusalem.
For more information about the Order, check out their WEBSITE.
Again, we extend our congratulations to our fellow Garrideb, Michael Quigley, on his nomination for this honour. Well done!